100000+ Students
can't be Wrong!
1023142
Orders
4.9/5
Ratings
5030
PhD Experts
Get best grade, order now!
The Best Tips Ever on How to Write Reflective Essay
Lucy Wilson
07 June,2018
Being encountered with something that seems so easy but in reality, so tough, students start to wonder how to write reflective essays. By the name, it may seem that you only have to showcase what you think about a specific thing, person, or event. But, you should know that there are many layers of this specific type of essay. With so many things you need to keep in mind, you might find difficulty in writing reflective essays, but when you get the right guidance, the process becomes easier for you.
Many students struggle with writing reflective essays because they don't know how to approach it. With some wrong assumptions, they proceed with the writing and end up with something that is not a reflective essay.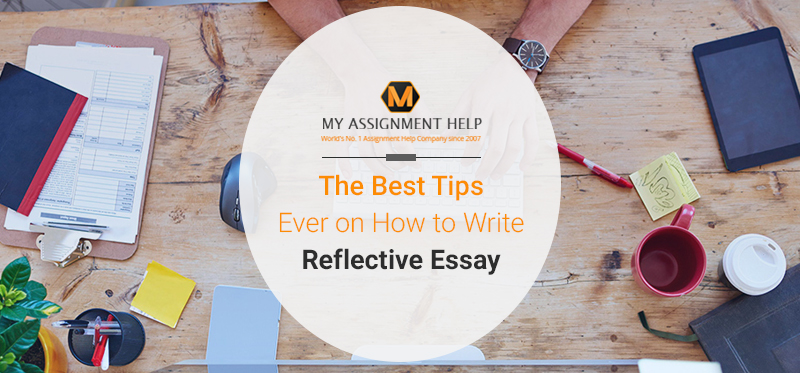 So, before anything else, you must understand what it reflective essay is and how to write them.
What exactly is reflective writing?
In a reflective essay, you will have to explain a specific experience or occurrence, and after that, you will have to examine the meaning that you have derived from that experience, and finally, you will delineate what knowledge or information can be gathered from it.
Thinking is a critical part of the writing process of any type of essay. In a reflective essay, the focus is more on what you think instead of what a bunch of other people have said.
An article in UNSW Sydney states that there are two aspects of the thinking process, critical thinking and reflective thinking. These two are linked closely with each other.
In a reflective essay, you will personally respond to past situations, experiences, or occurrences. Through your reflection, you will think and learn at the same time.
The purpose of reflective essays is to:
Give you a chance to attain knowledge about yourself
Provide a mean to think so that you can discover what you have learnt from your experience
Give a mean of responding to your feelings and thoughts
What cannot be considered as a reflective essay?
Something that:
Consist of only the description of the occurrence. However, there can be descriptive elements in the essay.
Only present some information or argument
Include a direct decision or verdict
Only after getting a clear idea about this particular essay, you can start writing it.
How to begin?
At first, you have to find out a perfect subject on which you will write the essay. You can choose from one of the following:
An imaginative topic
A book, movie, or lecture or audio clip
An experience
An inspirational person
A special place or thing
You should always keep in mind that you have to choose one such topic, which will give you the opportunity to analyse it deeply to get a profound learning experience.
How to reflect on an experience?
After you have chosen the topic, you should think vividly about it. Follow the below steps:
Put down everything that you remember about your experience and give a clear description of it. Use as much adjective as possible
Following this, you will have to give a deeper thought about the experience to know how it has affected you and how it is still affecting you. To do this, you can consider some areas or aspects related to that experience such as:
Your learning from the incident
How differently could you have done that experience
Did you get positively or negatively impacted by it
What should you write?
Through a reflective essay, you will be sharing a personal experience of yours to seize the attention of the readers. You need to show how this particular experience has changed your life by influencing your behaviour and attitude.
You must include both the positive, negative impact of the experience in your life, along with, the outcome of that specific experience. You must surely state the after effects or consequences of the experience.
How to structure a reflective essay?
The key thing that you need to know about how to write reflective essays is that you need to be organised while composing it. This type of essay will follow the normal structure of any type of essay including the introduction, body paragraphs, and conclusion. But, unlike the others, a reflective essay will not include just a mere description of the experience; instead, it will showcase what you have learned from it and how it changed your life.
Based on the target readers, the structure of the essay can change but in every essay, the writer needs to showcase a deep critical thinking skill.
The introduction of the reflective essay starts with a hook statement that attracts the readers. And it also includes a thesis statement in which you will have to write about the incident and its influence on you briefly.
To write the body paragraphs, you can divide the incident into segments and go on with it in a chronological way. After you give the description of the first part, write about its effect on you and how you get inspired by it. Always remember to include only the most important parts of your experience and not every trivial detail about it. Apart from this, you can utilise another format where you will be giving a full summary of the experience and then, your learning experience from it.
Write the conclusion in a way, combining all aspects of the essay together. All the major points of the essay should briefly be restated along with what you have deduced from the reflection you have produced in the paper.
Follow these tips, and you will soon learn how to write an essay effectively. With practice and time, you can master the art of reflective writing.
Writing Reflective Essays made easy with the Excellent Service of Myassignmenthelp.Com!
Got a reflective essay to finish? If you are in search of some guidance on how to write reflective essays, then, MyAssignmenthelp.com is the right place for you.
We have been serving students all over the world more than a decade bringing their academic dreams to reality. Our only goal is to ensure that the student receives the maximum scores from the essays that will ultimately contribute to the students' success.
Our team of skilful writers are adept at producing high-quality reflective essays fulfilling all the requirements.
Not just reflective essays, we provide our service on all types of essays.
Some amazing features of our service are as follows:
High-quality content– Our experts never compromise on the quality. From us, you will receive only superior-quality papers with which you can easily impress your instructor.
Timely delivery- You will receive your order always on time so, you will never miss deadlines ever again.
Affordable price- Our services come at a very reasonable price which every student can afford.
Always active support- Our customer support team stays active 24*7 so, you can get your queries solved from them at any time in a day.
So, to achieve academic excellence, contact us today using the information provided on our 'contact us' page.