Imagine this. You are walking down the road like every day when you see a man drop his wallet as he gets into a cab. What will you do?
Will you call out the person and let him know that he has dropped his wallet?
Will you keep walking as nothing has happened?
Or will you take the wallet and use the money to buy yourself a meal?
There are a number of ways to react to that situation, and if another person was in your position, he/she might have reacted differently than yours. But what determines how a person is going to behave or react to a particular issue? Have you ever given a thought to this?
Well, don't worry. No one is going to punish you if you never really think about the reason behind human behavior, but in the field of Psychology, it has been a hot topic for debate for quite some time now.
Over the years, a number of opinions have emerged, but only a few of them have stood the test of time.
According to French philosopher, Rene Descartes, "We all, as individual human beings, have certain innate ideas that enduringly underpin our approach to the world." And if we are to believe that, then what exactly influences our innate ideas? Is it heredity, or is it the environment we grow up in?
This is the foundation of the never-ending debate between "Nature vs. Nurture" as researchers keep digging further into the issue.
The term "Nature" signifies the genetic inheritance that we were born with, while the term "Nurture" is described as the influence of external factors like experience, upbringing and education. And the debate between nature and nurture aims to find the relative contribution of both these elements to human behavior.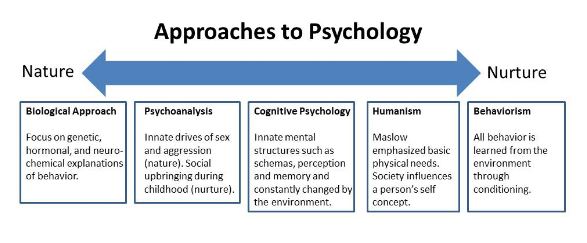 Figure 1: Source: simplypsychology.org
The color of your eyes, your hair type (straight, wavy or curly), the pigmentation of your skin and even the vulnerability to certain diseases – these are the examples of physical characteristics that are influenced by the genes we inherit. But how can it influence our actions?
Well, a group of researchers believes that certain psychological characteristics, including personality attributes, behavioral tendencies and mental abilities are also "wired in" before we even take birth.
Researchers who support the "nature" theory believe that individual differences between two humans are the result of the difference in genetic coding between those two people. They have presented several pieces of evidence to establish their point, and by far they have succeeded in doing so.
However, the researchers who believe in the "nurture" theory suggest that the human mind remains at a blank state during birth and as the person starts to gain experience, his mind begins to fill. Going by that logic, psychological characteristics and behavioral changes that appear through infancy and childhood are the product of the person's learning.
Researchers from both the sides have contradicted each other's opinions, and that continues to go on, even though the popular understandings of this debate have changed. In the 60s, the theory of "nurture" gained a lot of popularity as people back then was convinced that a person's personality is influenced by his experience and training.
However, the people have started to realize the significance of heredity on a person's behavior, in recent years. This is one of the major reasons why people have begun to accept the fact that the genetic influence and the influence of the environment do not act individually. In fact, it is being suggested by the researchers from both the sides that both "Nature" and "Nurture" are crucial for any behavior.
The researchers who have supported either of the views are now more interested in finding out how both the elements (nature and nurture) interact.
More questions will be answered as the researchers find out more details about genetics. This may help provide a general understanding of the fact that personal choices are influenced by both nature and nurture; not individually, but collectively.
How to draft an essay on the topic "Nature vs. Nurture"?
If you are asked to draft a compare and contrast essay on this particular issue, you can use these aforementioned details to compose your essay. However, you may require a certain amount of study before you can write an essay of such format on this hugely debated topic.
To make your essay a bit comprehensive, you can discuss the influence of the following factors on human behavior.
| | |
| --- | --- |
| Nature | Nurture |
| Genetic outlook to criminal behavior | Love and Affection |
| A family history of drug and alcohol addiction | Education |
| Mental sickness | Financial Stability |
As mentioned before, this is a much-debated topic that is being discussed in all levels of the study of Psychology, and there is no dearth of material on this topic if you are willing to draft an essay on "Nature vs. Nurture".
You can use these following tips to improve your essay content:
Start early
Conduct meticulous research
Create a structure for the content
Use short and simple sentences
Proofread the copy several times
Look for the punctuation error and fix them
Check for plagiarised content
If you are well-informed about the topic, it does not take much time to draft a remarkable essay. So do your research on the topic and make sure you use the information with compelling content. If you are having difficulty understanding a certain portion of the topic, ask your professor for the assistance.
Can't spare enough time for your unfinished essay? Delegate the task to the MyAssignmenthelp experts who know how to create remarkable essays in a limited time
If you are struggling to draft your pending essay paper due to a massive time constraint, then it may be the perfect time to avail the necessary assistance from the experts at MyAssignmenthelp.com. Due to a busy schedule and several crucial engagements, it often becomes difficult for the students to spare enough time for their unfinished essays. But skipping them is not an option, as most of them are graded by the professor. In such situation, obtaining essay help online seems like a convenient idea, and what better place there can be than MyAssignmenthelp.com when it comes to essay help online?
MyAssignmenthelp.com is one of the leading academic solution providers online, which have been operational for almost a decade and have helped thousands of students reach their academic goals with confidence. Interestingly, MyAssignmenthelp.com always provides the students with quality essay papers, no matter how intricate the topic is. They are known for their flawless and plagiarism-free content that has always helped students secure higher grades. Not just that. The team of 4500+ experts also offers the option for rework, in case the student is not satisfied with their work.
You may think, such premium quality service may cost a huge amount, but it's not. All the essay help services (writing, proofreading, editing, plagiarism checking) at MyAssignmenthelp.com cost only a nominal amount so that you won't have any issue availing them.