Pestle analysis of McDonald's Singapore.
Introduction
McDonalds is known for its consistent high quality and the variety of burgers that they provide. But the success of McDonalds' did not just happen to be, it began only after years of hard work and an idea of a person. Ray Kroc, a salesman and a man of other talents found the idea of McDonalds' when he came to San Bernardino, California for one of his sales job. It was small restaurant owned by two brothers with a limited menu and a very productive system of service, with a high quality because of a limited menu. Ray Kroc had an idea of opening its chains all around U.S. In 1955, Ray Kroc developed the systemic and a consistent method to serve the exactly same high quality food in every restaurant and formed McDonald's System, Inc ("McDonald's - McDonald's®", 2016). At present there are around 34,000 restaurants in 118 countries.
In the present case study we are focusing our research on McDonalds' restaurants in Singapore, which started in 1979. The day McDonalds was opened in Singapore; the day was celebrated as an event as hamburgers were served in a voluminous quantity at Liat Towers. At present there are 120 McDonald's restaurants in Singapore. The principles of Mcdonalds' are their aim and objective to maintain their quality, service, cleanliness and value that they always work forward to achieve
PEST Analysis of McDonalds' Singapore
PESTLE analysis is an analysis of an organisation that is based on various factors which includes its Political, economic, environmental and other factors that affect the internal and external environment of a company.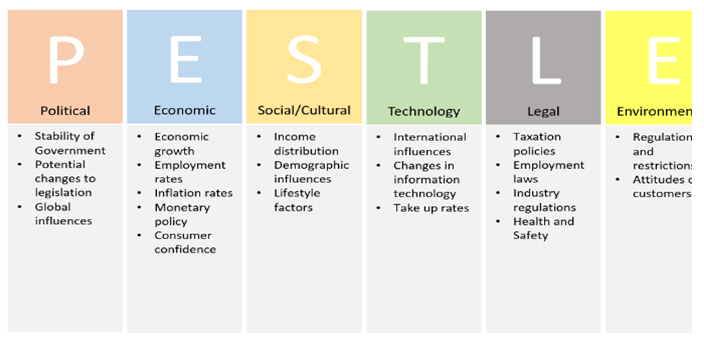 The PESTLE analysis of McDonald Singapore is as follows:
Political: political factors include the governmental policies and laws and regulations of a country that affect the working of an enterprise in that country. McDonald is affected by the political setups of a country that it's where it has established its outlet. The laws relating to tax, health and food safety, laws relating to workers etc affect its internal working. Singapore being a bureaucratic and also a democratic nation (Panakorn, n.d.), its political setup is completely affected by the decisions made by the government which are addressed to the public. Since the kind of food McDonald serves, it has health implications and therefore it has ot adhere to the regulations which it is doing perfectly in Singapore
Economic: Singapore is considered to have a wide economic independence, which is extremely stable in nature. The proof of which was can be seen from the situation of economic instability that was witnessed in 2008 by the world, wherein Singapore still had a very stable economy. It has a economic free stats in terms of its economic freedom ("Singapore Economy: Population, GDP, Inflation, Business, Trade, FDI, Corruption", 2016). By 2010 Singapore had an economic stability better than that of the world's best economies like America. With regard to McDonald food industry is growing at an active pace in the economy of Singapore. Singapore being famous for tourism, its hospitality industry is taking advantage of it and therefore food sector I also getting its perks.
Social: Food business is highly affected by the local preferences of the people and the tastes that they have. McDonald is very good at creating menu's depending upon the tastes of the local people. Singapore being a fast country socially and economically, McDonald provides a quick and easy service to the people and helps maintain the quality of life that people desire. McDonalds' maintains the preferences of the local people as well as the tourists as it's a country that attracts a lot of tourists every year. McDonald has been very successful in establishing itself in the socio-cultural environment of Singapore as it has done in various other countries.
Technological: Singapore remains updated with the latest technologies; in fact it is a highly developed island in terms of technology and so does McDonald. McDonald has had an aim of establishing quality and a systemic production technique to provide same quality of food all around. McDonald has been keen in using latest technology to maintain its production and service quality which is the sae all around the world. It also uses technology in terms o fits distribution and marketing through Telecommunication methods along with its advertisements through hoardings and pamphlets. It has also adapted to the technological advancements through internet, as it provides various facilities of distribution and marketing online and maintains the same quality of service.
Legal: the legal factors that affect McDonalds are similar to that of the political factors. Legal includes the laws that are prevalent in the country, that affect the working of an organisation. Singapore has strict health laws that affect the fast food business, as fast food has various health implications, especially on children and could lead to obesity and other health related problems. Even the labour laws affect the working with regard to timings and minimum wages and also the bargaining power that the laws provide to the workers in contrast to the employers. McDonald has maintained and adhered to the laws of Singapore very easily and efficiently.
Environmental: the internal and external environment affects the working of an organisation. The environment includes the imposition of restrictions and regulations and also the subsidies that are provided to an industry by the government. The environmental factors are also the behaviour and habits of the customers and their preferences. McDonalds provide services and food based on the preferences of the people that it's serving to. It is said to have a different menu for each and every country that it provided its services to, based upon the choices and preferences of the customers. It is termed as the best employer in Singapore (Today, 2016).
PORTER`s Five forces analysis of McDonald Singapore
Porters Five Force Analysis (Burke, Stel, & Thurik, 2010) is a study of the external factors that influences the working of an organisation. These five forces vary in terms of the impact they create the variation ranges from being a strong force to being moderate and weak. They determine how much force a factor is creating in order to find out the shortcomings of an organisation. The five factors that affect the working of McDonald at Singapore are as follows (Gregory, 2015):
Competitive rivalry or competition: This is a strong force that determines the competition that McDonald's has been facing in its fast food with other fast food chains around the globe and especially in Singapore. The competitive edge is dependent upon the number of other enterprises that come into the business, the competitiveness they create and the costs they incur on their flexibility to switch according to the demand and competition. McDonald has a very high competitiveness in these terms as it has all the qualities as listed above. McDonald is very furious when it comes to competition and changes and adapts according to the market demand. However, the switching capacity of McDonald is low and is unable to provide customers with low priced food, which makes people shift to other cheaper local fast food chains.
Bargaining Power of McDonald's Customers/Buyers: this is again a strong force that relates to the buying capacity of the customers and the power that they have to do so at McDonald. This force deals with the demand that McDonald creates over the customers, depending upon the switching costs, number of customers, and the possibilities of alternative options available to the customers. As customers have various options available with regard to the fast food chains, therefore they can switch easily because of the prices and also as they can easily get bored and require change. Although McDonald keeps on adding and modifying its menu, yet people get bored by keep on eating the same stuff and hence they need change.
Bargaining Power of McDonald's Suppliers: the third force is dependent upon the supplier's power of bargaining and its impact on the organisation. This is a weak force (Weak Force) as there are a large number of suppliers in the market and the amount of supply is huge. The suppliers do not have a nexus and lack distribution directly to McDonald, which highly affects its bargaining capacity in terms of suppliers and weakens its competitive edge. Although for McDonald, the raw material is easily accessible from anywhere and hence, the affect that the suppliers power has on McDonald is too weak in nature.
Threat of Substitutes or Substitution: the development or growth of McDonald is dependent upon the substitutes that are available in the market, the more the substitutes, less shall be the growth and the fear of people switching to other substitutes always hang over McDonald, making this a very strong force under the Porter's Analysis. (Strong Force). As there are a high number of substitutes in the market from which the customers can choose and opt depending upon their preferences and also the switching cost is nominal and very low as these substitutes provide same quality and variety at a similar cost. Therefore, this is a major factor and a threat to McDonalds' growth in the market.
Threat of New Entrants or New Entry: another force is the fear that new enterprises create. As with the increase in the tourism industry, the food and hospitality industry is also increasing day by day, therefore newbie's are entering the market are creating a pressure on the existing companies in terms of competition. Although McDonald is an established name and it has its loyal customers therefore this force has a moderate affect on the working of McDonald. This force is also affected because it takes bare minimum capital to bring in a new establishment; however, it takes a lot of capital for establishments like McDonald to maintain its brand name.
Strategic Recommendations
In order to avoid the problems that McDonald face, due to the competition and the bargaining power of the customers the following recommendations are made:
It must create its menu's depending upon the cultural preferences of the people. So that local people are attracted towards the menus.
It should create more loyalty programmes in order to make the customers loyal to it and thereby reducing the switching tendencies of the people in order to avoid people opting for the alternatives.
Environment friendly techniques could also be used in its marketing and packaging systems which would help attract people and also increase its environmental protection initiative and thereby increase its market value.
Healthy fast food concept could also be introduced in order to avoid the heath issues that are caused by fast foods by adding healthy ingredients to its existing menu as well as creating a different menu for health conscious people (Ibrahim, 2012).
Conclusion
McDonald is a world renowned fast food chain and is very much handy for people who have a fast life and cannot easily meet the needs of spending time and energy of food. The food chain also provides extremely pocket friendly food that adds on to its advantages along with being quick and handy. It has kept and maintained its quality all around and has developed through the time and the cultural setup of the place that it has its establishment. In Singapore McDonald is creating its customer loyalty by providing food according to their preferences and also by providing various schemes and discounts in order to grab the attention of the people. It has also catered in bringing up new idea of hosting parties at its dine in outlets and providing special offers and discounts along with other facilities for the parties. The PESTLE Analysis shows that McDonald is a highly preferred fast food outlet in Singapore due to its free economy and growth in the tourism business. McDonald has a great advertising and marketing strategy because of which it has created its large number of customers. The discounts and facilities that it provides for online services and free home delivery of its food that is delivered fresh and quickly has also made it easy for the people to become loyal to it.
McDonald has now also been looking into the healthy perspective of food that it provides. It has started adding vegetables to the food and added salads to its menu to make its fast food look healthier to the people. But it needs to build its brand image in term of healthy food in front of the public through advertising. Singapore being a multi-cultural island, consisting of a mix of Chinese, Indians and other cultures, McDonald has kept its innovation in food up to the standards of the people and created a menu with a cultural mix that is preferred by all the cultures. It has created various facilities in order to attract the youth, and also children. It has created the facilities of party for children, Wi-Fi facilities, and discounts for students at some places and gifts and games at some outlets for children. The menu is designed in such a way and the setup it has displaying various toys that are given with meals for children. All that McDonald needs to add is to increase its charity line, in order to ensure its corporate responsibility, which would again increase its brand worth and also make its menu more health friendly, as people are becoming more health conscious in this fast world, where people have no time for exercising and indulging into health activities and they now look for it in the form of healthy food.
Bibliography:
Panakorn, G. Singapore Economic Model and Authoritarian Democracy: The Phenomenon of The 21st Century In South East Asia. Academia.edu
Singapore Economy: Population, GDP, Inflation, Business, Trade, FDI, Corruption. (2016).
Thompson, A., Gamble, J., Peteraf, M., & Strickland, A. Crafting and executing strategy.
Today,. (2016). Mcdonald's named best employer in singapore.
UNITED STATES SECURITIES AND EXCHANGE COMMISSION Washington,. (2016).
Burke, A., Stel, A., & Thurik, R. (2010). Blue Ocean vs. Five Forces. Harvard Business Review. Retrieved 5 June 2016,
Sipahi, S. (2010). Expanding Operations in Fast-Food Industry under Uncertain Market Conditions. International Journal Of Trade,
Vovchenko, N., Kochka, V., & Pogorelenko, N. (2015). PESTLE ANALYSIS.
Guidelines for pest risk analysis. (2001). EPPO Bulletin, 31(1), 11-13.