Corporate Objectives of Manchester United
Manchester United FC, a professional sports team of Manchester, England, has three principle sectors in their business model. The three areas are Commercial, Broadcasting and Matchday. Corporate strategy of Manchester United FC totally depends on these three sectors. Via commercial sector, they enhance their global brand using three revenue streams which are retail, merchandising apparel and product licensing and mobile and content (manutd.com 2016). Authority of Manchester United FC also focuses on their broadcasting sector that allows them to gain a large part of their total revenue. Broadcasting revenue of Manchester United was £108 million in 2015. Therefore, their foremost objective is to increase the availability of MUTV (Manchester United TV) in different countries. Last but not the least, match day sector of the organization is responsible for proving £90.6 million revenue in the year of 2015 (manutd.com 2016). Being one of the largest stadiums in the world, Old Trafford has the seating capacity of 75,669 and Manchester United Authority is planning to increase this number so that they can gain more revenue from match days (Paramio et al. 2015).
Vision: The vision of Manchester United is to become the perennial best soccer club in the world, both on and of the pitch (manutd.com 2016).
Some of their other vision and values are staying united (committed passion for success), non-discriminatory (available to all), creative (to be "first to ball" every time) and team oriented (working as a team with dedication).
Mission: "As Manchester United, our mission is to become the most powerful and successful sports team in the world, both on and off the pitch" (manutd.com 2016).
From the mission statement, it is clear that the organization is focused to combine their best business practices to acquire and maintain a championship caliber team that will help them to become a more successful brand in the world.
PESTLE analysis of Manchester United
PESTLE analysis on Manchester United FC is mentioned below by describing the effect of four major factors (Political, Economic, Technological and Social) on it. Manchester United is an English Premier League soccer club located in Manchester, UK. Therefore, all the factors described in this analysis will focus on the UK market.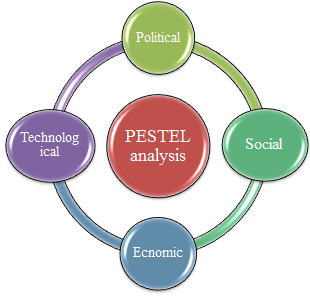 Figure 1: PESTLE Analysis
(Source: Ausloos 2014 )

Political factors
European Football Association and global equivalents like Union of European Football Associations (UEFA) and Fédération Internationale de Football Association or International Federation of Association Football (FIFA) are primarily affecting Manchester United FC politically. These organizations are responsible for shaping and instructing how all football clubs can operate (Ausloos et al. 2014). UEFA and FIFA set the rules and regulations for the football clubs regarding transferring and signing players and carrying out their on-field activities. According to the rules of UEFA 2010, those organizations also monitor the amount of debts a club is allowed to carry. This rule has a direct effect on Manchester United FC as their high-level debts can cause short-term financial difficulties in near future (Edwards 2013). As the club cannot afford more debts according to the rules of UEFA, the scale and duration of Manchester United's financial difficulties might increase further.
Economic
Major economic recession in the UK is likely to affect the revenues of Manchester United. Watching football matches and following football clubs as big as Manchester United is expensive. Therefore, it is possible that Manchester United will feel an economic decline in near future. However, in spite of the critical economic conditions of the UK, Manchester United continues to grow its revenues as per BBC sports. According to Millward and Poulton (2014), the revenue of Manchester United reached record levels in the year of 2015. As a result, of this economic fall, buying players will be difficult for the club, as the other clubs in Eurozone will have an advantage because of the pound's current weakness against the Euro (manutd.com 2016).

Social
The desire to watch football has increased significantly among the people. In some previous periods such as in 1980s, football was affected by hooliganism, but now football has become the center of social interests (Doidge 2014). Having the largest fan base and the most attractive brand value in the world, Manchester United will be benefited because of this social interest (manutd.com 2016).
Technological
The advent of the internet technology, hundreds of broadcasting channels and various social networking sites such as Facebook and Twitter has come up. These social media sites have helped Manchester United to unite with a broader range of fans and followers globally (Rofe 2014). This also allows Manchester United to gain more revenue from the fans that do not live in within the range of traditional distribution networks of UK or cannot access football matches on their local television networks.
Porter's Competitive Forces
Porter's five forces model or competitive forces are mentioned below to find out the attractiveness of Manchester United's key market in UK.
Figure 2: Porter's five force model with their level of influence
(Source: Sanders 2014)
Buyer power
A large part of Manchester United's revenue is dependent on its fans and followers. Even though the club has a huge fan base, these fans and followers can switch to other EPL clubs of UK like Chelsea, Arsenal or Liverpool. Poor performance of Manchester United in English Premier League and other major leagues can force the fans and followers to move to other teams (Olson et al. 2016). Besides, switching costs are also low for the buyers/fans.
Supplier power
Supplier power in England is much more favorable than any other country in the world (Ogbonna and Harris 2015). Countries like China and India have relatively high supplier power (Szymanski 2016). Clubs in those countries are not allowed to have more than five foreign players in their teams (Sanders et al. 2014). On the other hand, football clubs of England do not have such rules and regulations.
Competitive rivalry
Teams such as Arsenal, Liverpool and Chelsea have already completed their pre-season tours in China. Liverpool is all set to join hands with one of the I-league teams in India. Chelsea is providing support to local teams in Korea and Japan. According to Poli et al. (2013), Arsenal has already taken over Manchester United in terms of popularity in China. Therefore, the competitive rivalry is fierce and Manchester United is currently losing the battle (Ado et al. 2015).
Threat of Substitution
Manchester United's revenue mainly depends on English Premier League (EPL). EPL is considered as the most popular and demanding football league in UK and the world and being a top team in that league, Manchester United is in the center of all attraction (Porter et al. 2015). However, the popularity of EPL is fading slowly but steadily as some new football leagues are introduced in other countries, especially in countries of Asia. For example, Indian Super League has already acquired rank 3 in top 10 football leagues in the world where just two editions of that league have performed yet (Thetoptens.com 2016). Besides, football leagues in China are also gaining lots of attention which can affect EPL and Manchester United. Strong marketing presence of USA basketball teams in the UK can also divert the popularity of football to basketball.
Threat of new entry
The Asian market is slowly but steadily firming their grip on the football industry (Szymanski 2016). Football leagues in China and India are giving enormous competition to the football leagues in England, Germany, Spain and France. Several other countries are also planning to introduce new football leagues in the near future (Kennedy and Kennedy 2015). Therefore, a threat is rising for the existing football leagues regarding popularity.
SWOT analysis
SWOT analysis is conducted to describe strengths, weaknesses, opportunities and threats of Manchester United. These factors will shed light on the internal analysis and strategic capabilities of the football club.
Figure 3: SWOT analysis
(Source: Olson 2016)
Strengths
According to Nufer (2013), Manchester United is the strongest and valuable sports club and sports brand in the world. This helps the organization to gain immense revenues from sponsorship deals and the sale of merchandise around the world. The market position of Manchester United can be understood by the fan following it has which is 330 million; 5% of the world's total population (manutd.com 2016). This huge fan following is the base of their strong brand image and there is no reason that it will face difficulties unless the club experiences a prolonged period of underperformance.
Weaknesses
The primary weakness of Manchester United FC is their high amount of debt on the market. Their debt is so high that the strengths of the club are arguably countered by this. Besides, the rules and regulations of UEFA and FIFA are not allowing the organization to take further debts which is causing more problems for the organization (Olson 2016). The recent performance of the club in any football tournament has been not only poor but they have also failed to qualify for UEFA champion leagues for the first time. As a result of this, their fan base is declining and their brand image is falling at an alarming rate.
Opportunities
The future opportunity of Manchester United lies in its huge fan base. Currently, the football club has 330 million fans and revenue of 327 million Euros per annum, most of which is generated within the UK and Europe from matchday and broadcasting sectors (manutd.com 2016). According to Olson (2016), the authority of Manchester United could double their revenue if they can gain one extra Euro per fan per year.
Threats
Manchester United has a huge amount of debt in the market. According to Kennedy and Kennedy (2015), if they cannot pay their debts within their maturity date, the amount of debts will rise to one billion pounds. The club is also facing fan protests because of their high level of debts. However, the club is not experiencing any major issues from the fan protests right now. It is expected that, if the club maintains their current position regarding debts, the fans might boycott the matches of Manchester United which will reduce the revenues and will increase the threat from debts.
Market segment
Manchester United has segmented their market into three sections which are commercial, matchday and broadcasting (manutd.com 2016). Their revenue based on these sectors are shown below,
Figure 4: Revenue gain of Manchester United according to their market segments (in million US dollars)
(Sources: manutd.com 2016)
Porter's Generic Strategy Framework
Figure 5: Porter's Generic Strategy Framework
(Source: Shaw 2012)
Cost leadership
Cost leadership is a part of Porter's Generic Strategy Framework that serves to provide competitive advantage to the organizations so that they can edge past their market rivals. For Manchester United, it is highly recommended that they must cut their costs as low as possible otherwise they will not be able to pay their debts (Wicker et al. 2015). Manchester United has already acquired this strategy, as from past two years they focusing on more local players than buying high rated foreign players. Signing up local players is helping them to reduce their organizational cost.

Differentiation strategy
Differentiation strategy allows a company to manufacture products which are different and more attractive that those of their competitors. Manchester United is a sports club. Therefore, their differentiation will be shown in terms of team's performance, brand image of the club, presence in the social media, connection with the fans and plans. Currently, the performance graph of the team is decreasing, as the club is unable to afford any high-ranked foreign player because of their debts (Shaw 2012). However, still Manchester United has the largest fan base in the world. Besides, their presence in social Media like Facebook and Twitter is far stronger than any other club in the world. Therefore, the club can easily use these differences as their differential strategies.
The focus strategy
The focus strategy concentrates on particular recess markets and helps the organizations to manufacture low cost products after understanding the dynamics of the market. These organizations build a strong relationship with their customers and therefore, other companies do not show any interest in that specific market segment. Like Liverpool and Arsenal, Manchester United can choose countries that are not economically wealthy but have the enthusiasm to play football, to set up their preseason camps (McNamara 2013). This will increase the club's popularity in that country and because of the poor economy; the club will bear fewer expenses too.
Strategic choice of Manchester United
Based on Ansoff's matrix, strategic choices of Manchester United are described below,
Market Penetration
Market penetration is one of the most important objectives of any organization. Being one of the most popular sports clubs in the world, Manchester United is also looking to penetrate into new markets to acquire new fans. The one and only way to achieve this target is to buy better players who will help the club to win more leagues and trophies (Millward and Poulton 2014). More they win, more their fan base will increase and more they will penetrate into new markets.
New Product Development
Manchester United is already focusing on developing several products such as T-shirts, jackets, shoes and other sports accessories (Unlucan 2014).
New Market Development
Manchester United is working to increase the popularity of soccer in various countries. They are joining hands with countries like China and India to help develop their stadiums (Petríková and Soroková 2015). Besides, the club is also focusing to increase their popularity among female fans.
Diversification
Diversification of Manchester United totally depends on their fashion accessories and their contribution to other sports.
Strategy evaluation
Based on the Ansoff's matrix, it can be said that market penetration would be the best option for Manchester United FC to increase their market position, brand value, brand image and fan base.
Suitability
Currently, Manchester United FC is dealing with their huge amounts of debts and with the extreme poor performances of their team. Therefore, at this moment, market penetration might look difficult for them. However, if the authority does not take proper actions to minimize these issues, the organization will lose their entire market share and brand image in the near future. Therefore, they do not have any option but to choose market penetration strategy. They will have to spend their money cleverly to buy appropriate players for the club so that they can improve their performances and can regain the trust of their supports.
Acceptability
In the current context of huge debts and poor on-field performances, the mentioned strategy is fully acceptable for Manchester United FC as that is the best they can do at this moment.
Feasibility
Most of the rivals in EPL like Chelsea, Arsenal and Liverpool, have already signed up major players for the next two seasons. Manchester United, on the other hand, focused on local players and new players who have not worked out yet, as the team has recently lost all of their records and achievement. For example, few days ago, they lost their first home match against Everton in last thirty years (manutd.com 2016). Therefore, the possibility is low that the chosen strategy can help the club. However, Manchester United does not have any other option too.
Conclusion and recommendations
From the report, it is clear that the most significant problem of Manchester United is their amount of debt in the market. The rules and regulations of UEFA and FIFA are also stopping them from taking more debts. Therefore, it is becoming more difficult for them to deal with the situation. Besides, the team has not won any major trophies in the last two years which is also hurting the management. In this critical time, the only chance that Manchester United has to survive is their huge fan base and their strong presence in social networking sites. Last year, Manchester United gained 451 million dollars from commercials and match days. It is also expected that this number will increase in the next two years. Therefore, it can be said that Manchester United is using their strengths perfectly to deal with their current issues. However, it is also true that Manchester United has some competitive weaknesses which are creating obstacles before them. Arsenal and Liverpool have already completed their preseason practices in China which gave them a great opportunity to connect with the local fans. Manchester United does not have any similar plans and as a result, they are slowly losing their fan base in China. The fact is not hidden to the authority of the club but still they are not taking any steps to revert these effects. Therefore, it can be said that in spite of having several strategies, the company is unable to execute them precisely.
References
Ado, A.B., Hassan, H. and Nasir, M.H.M., 2015. Electronic Customer Relationship Management (E-CRM) Features: Comparing Two Football Clubs (Manchester United & Chelsea FC).
Ausloos, M., Gadomski, A. and Vitanov, N.K., 2014. Primacy and ranking of UEFA soccer teams from biasing organization rules. Physica Scripta,89(10), p.108002.
Doidge, M., 2014. Book review: The Global Football League: Transnational Networks, Social Movements and Sport in the New Media Age. International Review for the Sociology of Sport, 49(1), pp.121-124.
Edwards, K.G., 2013. The Biggest Game in Town: The NFL, The EPL, and a New Model for Value Creation in Professional Sports.
Kennedy, D. and Kennedy, P., 2015. Grass-roots football, autonomous activity and the forging of new social relationships. Sport in Society, 18(4), pp.497-513.
manutd.com, 2016. Business Model. [online] manutd.com. Available at: <https://ir.manutd.com/company-information/business-model.aspx> [Accessed 14 Mar. 2016].
McNamara, P., Peck, S.I. and Sasson, A., 2013. Competing business models, value creation and appropriation in English football. Long Range Planning, 46(6), pp.475-487.
Millward, P. and Poulton, G., 2014. Football fandom, mobilization and Herbert Blumer: A social movement analysis of FC United of Manchester.Sociology of Sport Journal, 31(1), pp.1-22.
Nufer, G., 2013. Ticket pricing in European football-Analysis and implications. International Journal of Human Movement and Sports Sciences, 1(2), pp.49-60.
Ogbonna, E. and Harris, L.C., 2015. Subcultural tensions in managing organisational culture: a study of an English Premier League football organisation. Human Resource Management Journal, 25(2), pp.217-232.
Olson, E.M., Duray, R., Cooper, C. and Olson, K.M., 2016. Strategy, structure, and culture within the English Premier League: an examination of large clubs. Sport, Business and Management: An International Journal,6(1).
Paramio-Salcines, J.L., Downs, P. and Grady, J., 2015. Football and its communities: the celebration of Manchester United FC's Ability Suite.Soccer & Society, pp.1-22.
Petríková, D. and Soroková, T., 2015. Economic and Psychological Aspects of Importance of Real Madrid Brand in Marketing Communication.Mediterranean Journal of Social Sciences, 6(3), p.504.
Poli, R., Besson, R. and Ravenel, L., 2013. The Demographic Polarisation of European Football. Article Available at https://www. footballperspectives. org,21.
Porter, C., May, A. and Kiernan, A., 2015. 'Thinking long and wide': which communities have a future within the global game?. Soccer & Society, pp.1-5.
Rofe, J.S., 2014. It is a squad game: Manchester United as a diplomatic non-state actor in international affairs. Sport in Society, 17(9), pp.1136-1154.
Sanders, A., Heys, B., Ravenscroft, N. and Burdsey, D., 2014. Making a difference: the power of football in the community. Soccer & Society, 15(3), pp.411-429.
Shaw, E.H., 2012. Marketing strategy: from the origin of the concept to the development of a conceptual framework. Journal of Historical Research in Marketing, 4(1), pp.30-55.
Szymanski, S., 2016. Professional Asian football leagues and the global market. Asian Economic Policy Review, 11(1), pp.16-38.
Thetoptens.com, T., 2016. Top 10 Football (Soccer) Leagues of 2015-2016 - TheTopTens.com. [online] Thetoptens.com. Available at: <https://www.thetoptens.com/football-soccer-leagues-2015-2016/> [Accessed 14 Mar. 2016].
Unlucan, D., 2014. Jersey manufacturers in football/soccer: the analysis of current jersey manufacturers of 1061 football/soccer clubs in top leagues of 72 countries. Soccer & Society, 15(3), pp.314-333.
Wicker, P., Soebbing, B.P., Feiler, S. and Breuer, C., 2015. The effect of Porter's generic strategies on organisational problems of non-profit sports clubs. EJSS. European Journal for Sport and Society, 12(3), p.281.