• Indicate the most important features of correct argumentation.
• Locate the different types of fallacies in arguments and be able to avoid them.
• Outline arguments using critical thinking and reasoning.
• List the differences between statements and non-statements to identify the relevant and non-relevant parts of arguments.
• Demonstrate the strengths and weaknesses in different types of arguments and explain these strengths and weaknesses?
False, because then it is deductively not valid. Deductively is valid only when an argument is deductively strong and based on two conditions valid and reasonable.
Inductively strong arguments are also cogent arguments.
True , because cogent arguments make their conclusion true only when the premises are true. But there is a possibility that conclusion can be false at the time when premises are true
An argument is sound only if it is valid.
True, it is sound when the argument's premises based on truth and an argument's conclusion follows that premises only.
'If we can't be faithful to each other, we should not be in a relationship.' This is a valid argument.
False , because if both the premises and the conclusion is true then only argument is valid. Both the above statements are based on conviction.
A cogent argument can have a false conclusion.
True , a cogent argument always based on the premises of truth so being a cogent argument is inductive argument, there conclusion is surely not true only has the probability (May. Robert, 1998).
'If Emma is a philosopher, then she is smart. Therefore, if Emma is not a philosopher, then she is not smart.' This argument is valid.
False, Smart people knows the rules very well so they can break them easily but it does not proved that only philosophers are the smart people. Smartness based on talent and active participation skills that anyone have.
'Some women are bad drivers. So, some women are good drivers.' This is an invalid argument.
True. It is invalid because both are the distinctive statements. This declares as the judgment of anyone. It is an individual perception. One is not dependent on another.
'If you like ice-cream, you have a sweet tooth. If you have a sweet tooth, you like sugar. So, if you like ice-cream, you like sugar.' This argument is valid.
True , it is valid because there are some convictions rather than reasons in our life but we all recognize our beliefs ourselves. The world may have the different aspect of thinking.
'Either modus ponens is a valid form of argument or hypothetical syllogism is a valid form of argument but modus ponens is not a valid form of argument. So, hypothetical syllogism is a valid form of argument.' This argument is sound.
False, this statement shows no clearance. From both the statements, either of the one can be true. Both seems contradiction to each other.
'Either I will contract lung cancer or I will not. If I will contract lung cancer, then stopping smoking now is futile. If I will not contract lung cancer, then stopping smoking now is also futile. So, stopping smoking now is futile.' This argument is valid.
True, it is valid because it gives the clear message that if one statement is true then only the other based on the previous one are enacts or concludes. It is an example of the Modus Ponens.
Section 2:
Consider the following argument:
"If Jack goes to the party, he will drink too much. If he drinks too much, he will make a fool of himself. But, I have known Jack for many years; he won't make a fool of himself. So, I can certainly say that Jack won't go to the party."
This argument comprises of two valid forms. Name these forms and demonstrate how the argument follows these forms.
Argument consists of list of statements known as premises but the same follow by the statement known as conclusion. We only say that the argument is true and valid when connectivity in between all the statements known as premises implies on its conclusion. If all the premises are true then the conclusion is true. The validity of an argument does not give the guarantee of premises that all the statements are true. Therefore, there is no guarantee of truth for the conclusion also. Conclusion would be true when only premises are true. In the above statement all, the above ones are the premises and the last one is the conclusion. If anyone is rational, understand, and agrees with the premises so he/she agree with the conclusion also. Premises of an argument show the evidence to prove for the conclusion. There are both bad and good arguments so arguments needs valid evidence to be proved that they are true (Elugardo. R,2001). Premises and the conclusion may be true or false because they are known as the declarative statement. In the above arguments reasoning is valid that is base on the premises those seems true. In a valid argument, what all need is that the prepositions in the sentences called premises taken as the evidence to proof the conclusion that is also true.
Consider the following two arguments.
1.a) All politicians are liars.
No trustworthy people are liars.
Therefore, no politicians are trustworthy.
The above diagram shows that if the basic diagram of the premises get combine then it gives the venn diagram of the conclusion. All three above can place on the top of the three overlapping circles. The diagram of the last statement is already present in the venn diagram. If it is so then the argument is valid whereas if it not so then the argument is not valid. It is clear that the diagram of the last statement derives from the above two. So it proves that both the above premises are involved in giving the conclusion (Stanley. J, 2000). The above one is valid.
1. b) No religious person preaches violence.
All preachers of violence are terrorists.
So, no religious persons are terrorists.
Distinguish between the two arguments above by evaluating whether each one is valid.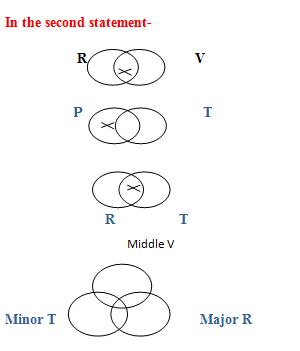 It shows that conclusion is not true when the premises are not true. So the statement is invalid.
Section 3:
Domestic helpers (maids) should not be allowed to use the swimming pools in the condominiums they live/work.
It would not be appropriate at all to support the above-cited statement, as even domestic helpers are human beings who should not be deprive of their basic rights and can use recreational facilities like swimming pool, gym or playgrounds. It's really very shameful when educated and so called modern people considered domestic helpers as lower class and refrain them from using swimming pool and in some cases lifts also just because of fear of being over-utilized or over-crowded. This conservative attitude reminds us something. It is not racism where people discriminated among whites and blacks. However, in this case the discrimination done solely because of class and status. It is simple to understand when the same thing is applicable on you at your work place. Imagine your seniors announced the people of middle and lower management to use cargo lifts instead of general lifts unless they accompanied by their senior officials or restrict the lower order to use break rooms in lunch hours or time off. How would you feel at that time? Therefore, it is high time to change your outlook and treat our domestic helpers as human beings who too deserve a recreational change after the full day of honest work. It is really disgraceful and unacceptable but it does not understand that why our condominiums accepting this principle that is very unfair with the house cleaners. They should also have the right to live with respect & dignity. Let assume that these are the people who take care of the kids of the people helps in the upbringing when the parent of this high society are busy in earning their money but in the end they are those who discriminate with the such class of people (Anderson. B ,2010). Necessary actions needs to be taken by the government and brings the change in the society only by opening the minds of the people those consists our society. Domestic helpers given lots of responsibilities by their employers like to care of their kids, household work etc so it is the duty of their employer to take care of them by fulfilling their personal needs too. It is very shameful that if the people who does not try to understand the problems of the maid are one of their employers only. Government should take necessary actions in favor of the domestic helps.
References:
Anderson. B ,2010. "Mobilizing migrants, making citizens: migrant domestic workers as political agents". Ethnic and Racial Studies. vol. 33, no. 1, pp. 60–74. DOI: 10.1080/01419870903023660.
Elugardo. R,2001. "Logical Form and the Vernacular". Mind and Language 16 (4).
May. Robert, 1998. "Logical form: its structure and derivation". Cambridge. Mass: MIT Press.
Stanley. J, 2000. "Context and Logical Form". Linguistics and Philosophy .
23
(4)