Executive Summary
Provide an executive summary to tell the reader what they will learn from reading the document.

Define a system to be developed or acquired:

Name the system (e.g., wireless broadband service to rural areas; new aircraft; replacement C2 system; new, paid parking system for Fort Meade; new car; new computer system for school; solar panel system for home, etc.)

Define mission addressed by system

Define a (high level) user Concept of Operations (CONOPS) for the system under consideration

Define major active and passive system stakeholders and why they are stakeholders

Define major uncertainties/assumptions (e.g., mission, technology)

Develop a means objective network and a fundamental objectives hierarchy for the system (or concept) selection.

Generate at least 3 different alternative systems (or concepts). Explain the technique that you used to generate these alternatives. Provide technical data for each alternative that will be used in conjunction with the utility tables to score the alternatives against each of the criteria.

Conduct an engineering trade study analysis and choose a concept that best meets your criteria. Describe the methodology you used to conduct the analysis and how you conducted sensitivity analysis. Remember, the write up should explain to the reader everything that was done in the study. Many times information is inadvertently left out, because the author knows the thought process being used. Write a trade study for the reader and do not assume that the reader has the same knowledge that the author possesses.

Be sure to explain how the criteria were selected. Relate back to the objectives using the narrative. Explain what the criteria are and why they are important.

Be sure to show all of the analysis steps in your trade study. You must do a pair-wise comparison of the criteria in order to determine their relative weights. Be sure to include the table used, provide a legend explaining the numbers, and explain the process for the reader. If you have some "must have" criteria, explain why these were selected as "must have" criteria.

Be sure to explain the scoring scale used to evaluate the alternatives. Did you use a 0-5 or a 0-10 range. Develop utility tables or curves for each of the need type criteria showing what a criterion must possess to earn a 1, or a 2 or a 3, etc.

Show the final weighted scoring in a table that clearly allows the reader to understand how the scoring was performed. Provide an accompanying narrative explaining the results of the scoring.

Be sure to explain what the final decision is and how you arrived at this decision.

Be sure to include a sensitivity analysis.

Discuss the overall risks associated with the decision and create a Risk/Opportunity Log for the top system risks.


System Definition
The report considers the planning of Gym in the process for the gym owner and friends. The Gym construction project was depicted under the report. The gym equipment and tools would require sufficient space for being placed; a suitable factor was identified for Gym setup. The alternatives for family gym were Steven gym, private gym, gym at park, and some free hand exercises at home and for the family members and the friends. Steven's gym could be accepted as an alternative for family gym. The support system at Steven's gym had various features, as it is convenient and it provides 24/7 workout time for every members. There were innumerable private gyms around one's locality. The private gyms were very suitable for getting workout and physical exercises. The private gyms had multiple equipment and tools for providing the bodybuilding exercises. Private gyms had numerous equipments for cardiac and muscular exercises. The final list of setting up of Gym accounted around the trade study analysis alongside the model gym setup. Since, the gym owner had to identify the gym area and proper space consideration for accommodating significant numbers of users. During the initial generation of alternatives, the equipment selection, gym room area and financing were recommended by gym facility development. However, the Facility trainers were chosen during detailed approach of accommodating the gym facility routine as per the estimated gym room area. Scoring process could be assigned for analyzed identification of suitable factors with gym facility setup. Furthermore, the project depicted the detailed analysis over certain factors for better assessment of the implementation process.
Name of System
This assignment is based on the analysis of the possibility of opening a gym at one's own house. Physical activity is essential to prevent and reduce risks of many diseases and improve physical and mental health. Setting up a gym at one's own home has a large number of advantages.
The main mission of this project is to set up a gym at one's own home as a part of his daily physical exercises routine that can then be set up without any specific condition or time limit. The basic concept of operation (CONOPS) is included in this section after identifying the required equipment and initial cost. The personal gym should be set up for at least 10-15 users in the house. Equipment must be incorporated keeping in mind the fact that individual users will be using it. The image below shows the blue print of the gym floor covering an area of 2600 square feet.
List of Stakeholders
Figure 1: Personal Gym Blueprint for 2,600 Square Feet space
(Source: Created by author)
The list of equipments is included in the following figure: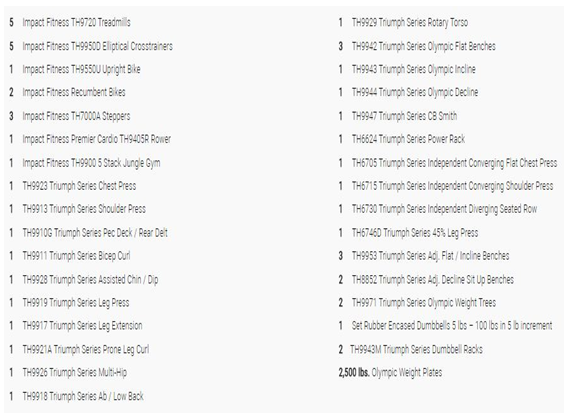 Figure 2: List of required equipments
(Source: Created by author)
The project should be developed keeping in mind that the gym would be used by 10-15 individuals simultaneously. Thus in order to manage them, there would be 30 gym equipment installed so that the space is managed well. The gym owner and his friends will be present as the gym for any kind of assistance. There will be five Impact Fitness TH9720 Treadmills and five Impact Fitness TH9950D Elliptical Cross-trainers for the consistent ten users. Additionally, one Impact Fitness TH9550U Upright Bike, two Impact Fitness Recumbent Bikes, and three Impact Fitness TH7000A Steppers for another parallel six users would also be installed. Moreover, three TH9953 Triumph Series Adj. Flat / Incline Benches, two TH8852 Triumph Series Adj. Decline Sit Up Benches, and two TH9971 Triumph Series Olympic Weight Trees are required for seven individual users at the same time. Two TH9943M Triumph Series Dumbbell Racks should be set up alongside the adjustable benches for better user experience. Furthermore, equipment like the Impact Fitness Premier Cardio TH9405R Rower, Impact Fitness TH9900 5 Stack Jungle Gym, TH9923 Triumph Series Chest Press, and TH9913 Triumph Series Shoulder Press should be set up at one side for better usage and exercise routine. Moreover, the TH9910G Triumph Series Pec Deck / Rear Delt, TH9911 Triumph Series Bicep Curl, and TH9928 Triumph Series Assisted Chin / Dip will need to be set aside together. For leg exercises, TH9919 Triumph Series Leg Press, TH9917 Triumph Series Leg Extension, and TH9921A Triumph Series Prone Leg Curl should be set up one side.
Stakeholders are an integral part of any project and this project too has a number of stakeholders who will be involved in the construction and management of the Gym. The stakeholders and their roles are listed below.
| | | |
| --- | --- | --- |
| Stakeholder | Type | Interest |
| Gym-owner | Active | Gym Manager/User |
| Friends | Active | Gym User |
| Trainer(s) | Active | Training the Users |
| Supplier | Passive | Supply of Work Out Instruments and Gym Equipments |
| Insurance Agency | Passive | Establish premiums which factor in costs of maintenance, repair, replacement |
| Finance Company | Passive | Cost Investment in case of Gym Commercialization |
| Accountant | Active | Deposit and Return Fee if Gym is commercialized |
(Source: Created by author)
Every project and new venture has its share of risk and uncertainties and this project is no different. These are as follows:
Expenses – There is no specific limit of expense in this project. Usually, instruments used at gyms are extremely expensive and hence, setting up a gym at one's own home without sufficient funding will be an extremely difficult task.
Equipment – Not only are the gym equipment expensive, some of these instruments are extremely hard to find as well. Moreover, due to large size and massive weight of some of the equipment transportation of these instruments can pose a great challenge to such a venture. Another major problem faced during the setting up of the instruments in the right place and in the right configuration. This must not be done without the help of a gym expert.
Assumptions
Safety – Due to use of overweight instruments (For instance, dumbbell, barbell, and others), accidents may occur. For this reason, safety precautions have to be taken and safety measures also need to be at place.
Proper Guidance – Having a gym at home gives an individual the liberty to use it any time as per his/her convenience. However, without the guidance of a gym instructor, drills may go wrong, causing negative effects on the body of the user.
Repair – Damage of any equipment in the gym may prove to be costly. Hence, insurance support is needed for repair or replacement of the gym equipment.
The major assumptions of the project are as follows:
Investment – It is assumed that if commercialization of gym is executed properly, investment from a financial company can be gained that will help in setting up of the gym.
Customers – It is assumed that if the gym is set up in a right way and with safety precautions, many people will join the gym. With the rising number of customers, two separate areas for men and women can be set up in the near future. Male and female gym instructors can also be appointed.
Success – Success factors can be estimated if the gym can be set up in right commercial manner with low membership costs and highly efficient trainers.
Health is extremely important for any individual and making a family gym would help in keeping members of the family fit and active. However, there are two types of objectives for gym Fundamental and Mean objectives. It is important for differentiating between the fundamental and mean objectives for making a family gym.
The fundamental objective for making the family gym is to maintain members' fitness and healthier routine. It helps in providing opportunities to the family members to learn different exercise programs without any regular payment. Regular exercise at the family gym will keep the members of the family active and fit. The key target for making the family exercise center is to gather the individuals from the family making them fit and sound. It helps in giving chances of various activity systems to the relatives with no normal installment. By following a daily routine exercise regimen, the family members will be greatly benefitted by the various techniques they learn. There would be no disgrace or issue with training round the clock. Furthermore, they would not need to get confounded by substantial and complex types of equipments. Moreover, they could incorporate light and free weights and the use of similar equipment for their family exercise center. The exercise center would be accessible for them whenever they needed. There would be no bar on timing of exercise center.
Means Objective Network (MON) and Fundamentals Objective Hierarchy (FOH)
Figure 4: Fundamental Objectives of owning family gym
(Source: Created by author)
The mean objective of owning a family gym would describe the way by which the fundamental objectives would be achieved. The mean objectives for achieving fundamental objectives can be understood from the decision model. Some preliminary questions were analyzed for understanding all aspects of the fundamental objectives. As for example, owning a gym would require understanding the cost effectiveness of the gym equipment and the places from where they would be bought.
Figure 5: Mean Objectives of owning family gym
(Source: Created by author)
The family gym center helps in providing opportunities for maintaining and advancing health and wellness of the members as well as the family members. The family could be benefitted by doing daily exercise in their own gym. Through this center they would be be encouraged to a live of better health and fitness. Moreover, since the center is their home, there would be no sense of shame or awkwardness. The daily routine and workout schedule would help them in living a healthy and fit life. They would encourage the science of manual handwork, training and bodybuilding method with their own made physical routine. They would not have to get confused by heavy and complex equipment. They could use light and free weights and equipment for their family gym. The gym would be available for them at any time.
Generation of Alternatives
The primary motive was to make their own family gym for facilitating physical activities. It would help in reducing and preventing occurrence of many physical diseases and mental illness. Exercise helps in boosting the energy levels in a human body and helps keep individuals fit and healthy. Owning a family gym is not possible for everyone. Various factors like time, space, and cost effectiveness are significant aspects affecting decision making process involved in one's family gym. It requires considerable amount of time for making a desired gym. All the equipment have to be arranged and it would exhaust much time of the owner. Shortage of space is another factor that has considerable effect on the process of making a family gym. The gym equipment and tools would require sufficient space for being placed. However, the cost factor is the most prime factor that has an effect on setting up a family gym. The equipment is costly and they require proper maintenance.
Alternatives
Hence, some alternatives are required that would help people and their family to stay fit and healthy by doing regular exercises and hard work. These alternative methods or ways help in doing all the physical exercises from some other places like Steven gym, private gym, gym at park, and some free hand exercises at home. It depends on the people whether he or she would be choosing which one of the alternatives. It is simply based on the convenience of humans for selecting and prioritizing their way for staying healthy and fit.
The alternatives for family gym are Steven gym, private gym, gym at park, and some free hand exercises at home.
Steven's Free Gym: Steven's gym can be accepted as an alternative for family gym. It has a supportive and warm community that can be reached at any time for guidance and assistance with respect to fitness. It supports all levels of fitness for people who want to stay fit and active. The support system at Steven's gym has various features. All the members joining Steven's gym get a free and personalized starting plan. They do not have to pay for this plan and it exclusive complimentary in nature. The friendly and supportive staffs have been trained for helping the members to attain fitness. Irrespective of the fitness levels of the clients, the staff is always eager and ready to support them so that they can achieve their fitness target. The tools and training at Steven gym are modernized and advanced. The members are provided more than just a fit body at Steven. They get a healthier life because of the effective and efficient personal training at the gym. The personal trainers at Steven offer personal training and regular mentored classes for the members. It helps in keeping track of the fitness schedule of the members. Moreover, Steven gym is convenient as it is a 24/7 functioning gym for their members.
Private Gym: The locality is surrounded by innumerable private gyms. These private gyms are suitable for workouts and physical exercises. The private gyms have useful equipment and tool that aid in developing a good physique. The following section explains some of the facilities provided at a Private Gym.
Running Track and Cycling- All the gyms are provided with facilities of natural or artificial running tracks. Some of the gyms have jogging tracks for running options. Nevertheless, Although most of the people prefer park or open ground covered with grass for running or jogging. The electronic treadmills are another option that can be used for cardio exercise. Cycling equipment is another instrument present at private gyms that help people to burn a huge amount of calorie by just cycling.
Engineering Trade Study Analysis
Cardio and Muscle pumping equipment- Private gyms have numerous equipments for cardiac and muscular exercises. Weights and heavy-weight tools are used for pumping body of the members for making strong forearm with biceps and triceps. Pulley machines and crunching beds are some of the other equipment that can be used for pumping the muscles.
Others- Swimming lessons and Sauna Spa are some of the other facilities provided by some of the private gyms. It helps the members to relax after a high intensity workout or training session.
Gym at the Park: Some of the outdoor gyms are situated in various parks and open fields. Many sports and recreation department have rolled out the provisions for outdoor gyms. The provisional government also supports the outdoor or gym at the park concept. It helps in promoting healthy and active living among various communities. These outdoor parks encourage people to stay fit and to observe a healthy lifestyle. Even lower order people are encouraged to maintain a healthy lifestyle that gives importance to health and fitness. It has helped in preventing diseases and illness. The social gathering has been also promoted by these types of gyms. Open atmosphere helps in motivating one person for doing more exercises and physical activities.
Setting up a Gym at Home: Regular going to gym is important for health. It helps in staying healthy and leading a quality life. A home gym provides privacy that is not available in any other type of gym. There is no social conversation or distraction in home gym. One can work out freely without having troublesome thinking about their appearance, it also saves time. If someone is working out on the machine, then other person would have to wait until the first person has completed his or her exercise. This is something which is not applicable to a home gym as this is your own personalized gym. Having a gym at home also is also beneficial from the personal hygiene concern. The machines and equipment at the home gym are personalized and thus there is no fear of multiple users leading hygiene risks. Some light weights and small equipment can be used for doing some free hand exercises instead of hardcore intense workout.
This particular section demonstrates the detailed analysis of the personal Gym setup based on some factors. The alternatives are identified with refining the following criteria within the actual development of the project. The higher analysis level supported the personal Gym setup with constant factor consideration leveraging the information of alternatives as well. The final list of setting up of Gym accounts the trade study analysis alongside the model gym setup. The formulation of weighing criteria and proper factors are essential to identify the efficient implementation of the project. Finally, the sensitivity analysis is important for developing the criteria with identifying the final outcome from the project.
Risks and Opportunities
Developing Criteria
In setting up of personal Gym facility, the consideration was supported with the "Most Important" criteria list as shown in table 6. The individual criteria are essential for setting up the personal Gym in this current aspect. The criteria are described with showing their importance in the project and selection as a factor. The "Most Important" list included as following:
| | |
| --- | --- |
| Most Important | Description and Importance |
| At least 10-15 Gym users | There will be proper space for 10-15 users at a time, need versatile routine for effective usage of equipments, and the Gym should have at least 2600 square feet area |
| At least five Trainers | As 10-15 users will be using the gym equipments, therefore, at least five trainers should be available in the facility so that each user is well attended and covered at a given point of time. |
| Proper equipments | The equipments are identified according to the number of users in the gym in the daily workout routine. |
| Investment funding >= $ 173,192.00 | As the equipments are setup for the gym, the initial cost and funding is estimated, now trainer cost and maintenance cost is not included in this estimation. |
Table 6: Most Important List for personal gym
(Source: Created by author)
Additionally, with the "Most Important" list, there must be some requirement factors for private gym setup and demonstration of those factors. The following table shows the generic requirement of the factors and the table after that shows the analysis that would identify the results regarding the importance criteria.
| | |
| --- | --- |
| Requirements | Description and Importance |
| Gym room area | The gym room area should be more than 2500 square feet for setting all equipments along with one attached office, emergency care facility, washrooms. |
| Equipment selection | The identified equipments are suitable for being set up within a space of more than 2500 square feet room. |
| Financing | The Gym facility should be adequately financed in the instance of a sudden upgradation of equipments or revised wages for individual trainers. |
| Permits and Licenses | The gym owner should have a valid business permit and licenses for accommodating the users within this gym. |
| Insurance | The gym equipments are to be insured against theft, sudden damage, and accidents. In case of fire outage incident, the gym facility should be incorporated with emergency recovery planning. |
| Facility trainers | The facility trainers should have coverage of all users with monitoring their activity, exercise, and daily checkup process. Therefore, the gym facility can be run properly with training users. |
Table 7: Gym facility development criteria
(Source: Created by author)
Pair-wise comparison is attached for determining the weighing factors associated with the chosen criteria from table 7. In table 8, the ranking of each criterion against other associative factor is shown. The ranking and evaluation scale is used in the comparison as following:
1.00 – identical criteria and factor comparison
3.00 – moderate relevance based on both criteria in between
5.00 – strong relevance based on both criteria in between
7.00 – very strong relevance based on both criteria in between
9.00 – extreme relevance based on both criteria in between
In case of less relevance, the reciprocals of the above scale are included in between two factors. Resultant weight is estimated in the following table as shown:
| | | | | | | | |
| --- | --- | --- | --- | --- | --- | --- | --- |
| Criteria | Gym room area | Equipment selection | Financing | Permits and Licenses | Insurance | Facility trainers | Weight |
| Gym room area | 1.00 | 9.00 | 6.00 | 6.00 | 9.00 | 7.00 | 7.05 |
| Equipment selection | 0.11 | 1.00 | 5.00 | 0.33 | 3.00 | 0.14 | 1.63 |
| Financing | 0.17 | 0.20 | 1.00 | 1.00 | 6.00 | 0.20 | 1.85 |
| Permits and Licenses | 0.17 | 3.00 | 1.00 | 1.00 | 4.00 | 0.13 | 1.62 |
| Insurance | 0.11 | 0.33 | 0.17 | 0.25 | 1.00 | 0.20 | 0.40 |
| Facility trainers | 0.14 | 7.00 | 5.00 | 8.00 | 5.00 | 1.00 | 4.39 |
(Source: Created by author)
A scoring table including the scales as of 1 (indicating low) to 5 (indicating high) was used to determine the value and score of each alternative in each criteria category. Lower value of terminal value of '0' is used to indicate that a particular option is not included in the specific criteria. In this evaluation process, the option is whether included with a feature or criteria and to which extent that criterion was incorporated. Since, the gym owner had to identify the gym area and proper space consideration for accommodating significant numbers of users. The likelihood of not meeting the specific criteria as equipment selection, to some level was very low. Table 9 to 14 elaborates on each criterion according to 1 – 5 scale. Normal description is included in the factors and scoring level for better understanding of the gym area scoring (Note: these descriptions were used as normal understanding guide of the factor importance). The plotted chart and graphs are important for showing the individual criterion relevance within the scoring process. Individual chart / figure depict the indication of scoring value under the individual factors with criteria as well.
Gym room area

Score

Description

1

Comprising general equipments for 2-5 users

2

Room area accommodating at least more users as 5-8 individuals

3

Room area with more equipments accommodating individuals up to 8-12 people

4

Area extended with proper facility and accommodation of 12-15 people

5

Completely covered, secure, and equipments loaded room with a accommodation of 10-15 people along with tanning and washrooms
Table 9.1: Gym room scoring scale
(Source: Created by author)
Chart 9.2: Gym room area utility
(Source: Created by author)
Equipment selection is primarily measured in case of smaller, medium or larger gym facility. Moreover, the user accommodation can be understood along with the gym facility and therefore, the equipment numbers are considered in this context. The gym owner has determined that this table and chart making process is the optimal way to estimate the effectiveness of the gym facility. This table included a single number for scoring according to the equipment selection in the gym facility.
Equipment selection

Score

Description

1

More than 8

2

8-15 equipments

3

15-20 equipments

4

20-27 equipments

5

27-33 equipments
Table 10.1: Equipment selection scoring scale
(Source: Created by author)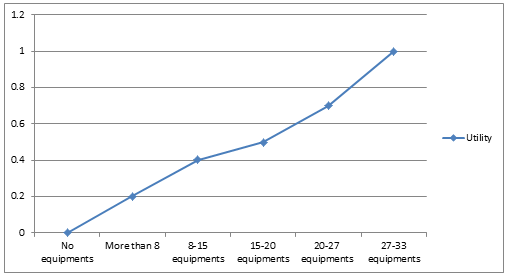 Chart 10.2: Equipment selection utility
(Source: Created by author)
In case of lack of financing in gym facility design, the users and equipments cannot be properly furnished within the facility. However, in case more funding, more furnishing and equipments can be included for considering other alternatives in the evaluation process. Therefore, to accommodate 10-15 people in the gym facility, additional funding is required up to $ 175,000 in this situation. To evaluate the financing for the project, the scoring of financing factor is assigned with five alternatives.
Financing

Score

Description

1

less than $ 5,000

2

$ 5,000 - $ 25,000

3

$ 25,000 - $ 75,000

4

$ 75,000 - $ 125,000

5

$ 125,000 - $ 175,000
Table 11.1: Financing scoring scale
(Source: Created by author)
(Source: Created by author)
Demonstrating the scoring scale within the other part of the factors, most of the criteria were found out to be difficult to estimate. As the estimation of permits and licenses were taken as compared to the subjectivity involved as compared to the first three criteria included with analysis before. For instance, the score and utility for Permits and Licenses, is shown in table 12.1 and chart 12.2, respectively. Not only the Permits and Licenses depend on where the equipments, gym members, and accommodation are provided. Moreover, in the cases of the gym facility might have some factors associated with other factors and standards. Therefore, the scoring is estimated with a round of and truncated value. On the other hand, the developing description of the project can be included with Permits and Licenses, Insurance, and Facility trainers. In an overall, the significant consideration is provided with individual scale.
Permits and Licenses

Score

Description

1

Functional – permits of business at startup level

2

Basic – automatic permit of incorporating more members in Gym

3

Updated – Licenses for power usage and permits to use sound systems

4

Advanced – License and permit for better facility with washroom and medical care

5

Luxury – Tanning center, washroom, attached parking and permits of using electricity and eatery
Table 12.1: Permits and Licenses scoring scale
(Source: Created by author)
Chart 12.2: Permits and Licenses utility
(Source: Created by author)
Insurance

Score

Description

1

Limited – insurance for the gym room decoration

2

Minimal – insurance covering gym room and decoration

3

Medium – insurance coverage of gym room, decoration, and security

4

Optimum – insurance coverage of gym room, decoration, security, and user insurances

5

Significant – Medical care insurance, coverage of gym room, decoration, security, and user insurances
Table 13.1: Insurance scoring scale
(Source: Created by author)
(Source: Created by author)
Facility trainers

Score

Description

1

Single trainer

2

1-2 trainers

3

2-3 trainers

4

3-4 trainers

5

4-5 trainers
Table 14.1: Facility Trainers scoring scale
(Source: Created by author)
Chart 14.2: Facility Trainer utility
(Source: Created by author)
The evaluation process was utilized for recording all information necessary for assessing each alternative in section 5.2 against the factors in section 6.2. The alternative choices are shown along the chart and the "Most Important" and remaining criteria are identified for better assessment. Associated with each criterion is the weight that resulted from the pair-wise comparison. When evaluating each alternative, it was first established whether or not it met the "Most Important" criteria. As shown in assessment, only alternative five did not meet these criteria. During the initial generation of alternatives, the equipment selection, gym room area and financing were recommended by gym facility development. However, the Facility trainers are chosen during detailed approach of accommodating the gym facility routine as per the estimated gym room area. The facility would have better trainers so as to provide a better training and workout process experience.
Figure 15: Gym setup evaluation
(Source: Created by author)
The factors have met all the "Most Important" criteria. Information associated with each criterion for each alternative was recorded in the table. From this information, the gym owner has determined the appropriate value from the scoring scale. Once the weighted score was determined for each criterion, the alternative's total score is calculated by adding all the weighted scores together. Scoring process can be assigned for analyzed identification of suitable factors with gym facility setup. The scoring helps to identify the process of identifying the utility support with "Most Important" points' consideration.
Sensibility analysis was performed with several types of identified criteria assessment and value to cost ratio. The purpose of this analytical study is to distinguish whether little changes will influence the result of the outcomes or not. Utilizing the assessment and changing the weights of determined criteria, the analyst could see where and how the general scores varied. For this situation, we just played out a restricted sensibility analysis, which implies, changing one and only constraint at a time. It demonstrates the consequences of changing "Gym room area" criteria value. The base weight of Gym room range, was estimated at more than 46. When this was brought down to 42, the five Impact Fitness TH9720 Treadmills, initially in second for general score, was presently in third, behind the Impact Fitness TH9950D Elliptical Cross-mentors. Despite the fact that these two choices were initially close, as the "Equipment determination" factor weight was brought down further, the delta between the Impact Fitness TH9550U Upright Bike and the main two options turned out to be exceptionally evident.
Another analysis perspective was led on the guarantee criteria. These outcomes have been appeared in the investigation. A little change in the criteria weight, for this situation, an expansion from 19 to 22, results in the Impact Fitness TH9720 Treadmills moving underneath in the Impact Fitness TH9950D Elliptical Cross-coaches in general values. Tables are excluded but rather the outcomes are presented underneath, sensibility analysis was conducted on all other criteria.
Equipment selection sensitivity: Neither a single change is seen in the weight for these criteria changed the result of the assessment.
Figure 16: Equipment sensitivity analysis
(Source: Created by author)
Permits and Licenses sensitivity: A positive change in weight had no relative importance on the general outcome of the assessment. On the other hand, the negative change has suitable preference of outcome change. At first at a weight of 10, a negative change to 8 resulted in the Impact Fitness TH9550U Upright Bike's general value surpassing that of the Impact Fitness TH7000A Steppers.
Facility Trainers sensitivity: Weight value change had no effect on the general outcomes of the assessment. On the contrary, a little increment in weight, from 10 to 11, resulted in the TH9953 Triumph Series Adj. Level/Incline Benches' general value surpassing that of the TH9971 Triumph Series Olympic Weight Trees. As the weight kept on rising, the delta between the Impact Fitness Premier Cardio TH9405R Rower and TH9923 Triumph Series Chest Press turned out to be more critical.
Gym room area sensitivity: Just a repetitive increment in weight would affect the outcomes. Three out of the four options were scored the same with the TH9910G Triumph Series Pec Deck/Rear Delt scoring the most astounding at 4. Nonetheless, in the underlying assessment, the TH9911 Triumph Series Bicep Curl had the most minimal general score. Just as the Insurance condition changed the value in positive part that made Two TH9943M Triumph Series Dumbbell Rack's general score come nearer to alternate choices, every one of them at a weight of 46. An advantage to playing out the affectability investigation was that it permitted us to mention a huge objective fact. Despite the fact that TH9943M Triumph Series Dumbbell Rack was positioned second as far as general score and first for the cost-merit proportion, we understood that it got center to low scores in most other criteria. The explanation behind its general score is much ascribed to the way that it was the main contrasting option to get a 5 in the security class. The criteria evaluation and cost-regard extent check, an affectability examination was performed.
All the data are utilized to manage a leader to a proper arrangement. They separately do not settle on an official conclusion. That was presently up to the exercise center proprietor how the rec center will be considered for execution. According to included data, rec center proprietors have bought the specified types of gear according to the earlier arranging.
The types of gear had been picked with higher advancement of expense with most elevated general value from the assessment. In any case, this option did not acquire most astounding legitimacy – cost proportion, the result contrasting with other variables. Cost and expenditure improvement for settlement general score was moderately shut the hardware determination and it was identified as best alternative per the legitimacy cost proportion. Now, the supplies resembled the most favored decision.
On the other hand, the following stride and likely the most critical was the execution of the affectability investigation. Through this examination, the rec center proprietor had distinguished that the types of gear have just introduced properly within classification that is convenience of more individuals. In all different classifications, the types of gear have been valued as similar or different than numerous different choices. The criteria as gym room area, Equipment selection, Financing, and Permits and Licenses those with little change, brought down its general estimated value. This perception, the exercise center proprietor has appropriate motivation to take every one of the types of gear as those are similarly compelling with cost use.
Discuss overall risk situation
Keeping in mind the end goal to settle on a decent choice, it is likewise critical to know about the potential dangers or open doors connected with that choice. Assessing along with providing a suitable insight into the necessary aspects for a detailed understanding over the outcome of the decision and allow suitable risk and threat identification and mitigation process. A risk management agenda that distinguishes the probability of episodes, their seriousness (in the event that they happen), furthermore, what should and ought to be possible to minimize dangers would be a decent begin. When this has been embraced, it is basic to guarantee that everybody with a duty regarding utilization of the gym is made mindful of dangers and what to do in case of an episode. A decent asset to peruse in regards to diminishing and overseeing hazard in the wellness business is Recreation SA's Code of Practice, which gives necessary counsel and direction on the best way to deal with a community gym.
The below-mentioned table shows a risk log for setting up a home gym. While considering our stakeholders, the developer recognized that most of the risks are in significant nature in this situation. The finance company and insurance agency assume risks with the equipment purchase as well. However, these risks are assumed by them regardless of the alternative chosen. Of course, if the home owner decided to construct a gym in her/his home, the risk management is essential. Therefore, they need to but some gym equipment. Moreover, the financer and insurer could choose not to lend their services. The gym owner should consider a minimum expenditure planning based on her/his previous experiences attaining financing and insurance.
In addition to the risks and consequences, the table shows the risk value associated with each risk. In order to determine this risk value, the user first identified both the probability (P) and impact (I) of each risk using a scale of 1 to 5.
1 – Low probably of the risk occurring; low impact to our family if the risk becomes an issue
5 – High probability of the risk occurring; high impact to the user home if the risk becomes an issue
The risk value (P x I) is the probability multiplied by the impact. The highest risk identified in the table below is risk #2. If, after the user purchase the some proper gym equipment, it turns out to be a lemon, the user would incur the largest impact. Not only will the cost of ownership for that equipment increase but the user will also have to rely on both equipment for home gym, or restrict the amount of time spend in the gym. This last part will be significant because the user really do enjoy the time that he or she spend time in his or her gym.
No.

Risk (IF)

Consequence (THEN)

P

I

P x I

Mitigation

1

The established gym equipment purchase price is too high

Monthly payments become too costly

1

3

3

· Perform thorough review of finances to determine acceptable monthly payments

· Do not exceed established purchase price

· Understand the quality of the equipment

· Calculate addition costs of ownership (insurance, inspection registration)

2

The equipment are lemon

The equipment will become costly to maintain and downtime will restrict the gym capabilities

2

5

10

· see equipment's in person prior to purchase

· obtain equipment usability history report

· perform pre-purchase inspection

3

The equipment does not meet the user's gym needs

The gym time spending will still be restricted

1

3

6

· understand long term needs of the growing gym

· get input from family/friends with similar needs

4

An existing equipment becomes inoperable making it is a primary use gym

decreases expected use time

3

3

9

· keep existing equipment maintained
Table 15: Risk / opportunity log
(Source: Created by author)
As, the risk management with the user choice indeed just influences the client, the user expects the duty of overseeing them. While recognizing the risk, user should resolve to utilize some risk decrease and shirking procedures by deciding alleviations for every risk. These have been shown in the table above.
As a major aspect of the risk management some of these alleviations were performed before the real choice, for example, checking on accounts, getting family/companion information, and exploring our own particular needs. Different risks, for example, purchasing a lemon, must be overseen by ensuring the user has finished certain things preceding consenting to the buy. Simply subsequent to finishing these things, the user will feel great with the choice. In any case, there are different dangers that the user will need to oversee even subsequent to obtaining the gym hardware. This incorporates the upkeep of other gym hardware. Performing customary support on this hardware is something that the user has been accomplishing for quite a while. There is no desire to stop this practice. As, this choice and its related dangers depended exclusively with the client, and can be overseen moderately simple, there was no compelling reason to build up a full hazard administration arrangement.
Aavestrud, E., 2014. MagnetGym: Resistance altering Gym Equipment with Biofeedback.
Acland, D. and Levy, M.R., 2015. Naiveté, projection bias, and habit formation in gym attendance. Management Science, 61(1), pp.146-160.
Alsalem, A., 2014. Device and method to configure gym exercises. U.S. Patent Application 14/150,279.
Bakhshi, J., Ireland, V. and Gorod, A., 2016. Clarifying the project complexity construct: Past, present and future. International Journal of Project Management, 34(7), pp.1199-1213.
Becker, J., Kugeler, M. and Rosemann, M. eds., 2013. Process management: a guide for the design of business processes. Springer Science & Business Media.
Bergman, G., Quam, D., Stuart, J., Amundson, J., Schwendinger, P., Weirich, K., Bruce, M., Kolavennu, S. and Nichols, S., Honeywell International Inc., 2014. Building automation system setup using a remote control device. U.S. Patent Application 14/565,306.
Bitterman, T., Frisbie, R., Naylor, A. and Young, K., Handy Gym: Upper Limb Assessment Device.
Black, D.C., Wallbrink, P.J. and Jordan, P.W., 2014. Towards best practice implementation and application of models for analysis of water resources management scenarios. Environmental Modelling & Software, 52, pp.136-148.
Brastarson, J.I., 2012. Glussa GYM: business plan: lightweight baby!.
Canali, V., 2012. Gym equipment, particularly for the training of movements on the high bar. U.S. Patent 7,097,590.
Cassola, F., Ala, S., Carvalho, F.D., Paredes, H., Fonseca, B., Martins, P., Cardoso, F. and Morgado, L., 2014. Online-Gym: multiuser virtual gymnasium using RINIONS and multiple Kinect devices. In 6th International Conference on Games and Virtual Worlds for Serious Applications (VS-Games) (pp. 25-28). IEEE.
Charette, S., McEvoy, L., Pyka, G., Snow-Harter, C., Guido, D., Wiswell, R.A. and Marcus, R., 2016. Muscle hypertrophy response to resistance training in older women. Journal of applied Physiology, 70(5), pp.1912-1916.
Chen, M.C., Ever Gym Enterprises Co. Ltd., 2015. Exercise equipment. U.S. Patent 9,144,701.
Ferrucci, F., Harman, M., Ren, J. and Sarro, F., 2013, May. Not going to take this anymore: multi-objective overtime planning for software engineering projects. In Proceedings of the 2013 International Conference on Software Engineering (pp. 462-471). IEEE Press.
Fewings, P., 2013. Construction project management: An integrated approach. Routledge.
Foa, E.B. and Rothbaum, B.O., 2012. Treating the trauma of rape: Cognitive-behavioral therapy for PTSD. Guilford Press.
Gaffney, M., Walsh, M., O'Flynn, B. and Mathúna, C.Ó., 2015. A Highly Automated, Wireless Inertial Measurement Unit Based System for Monitoring Gym-Based Push-Start Training Sessions by Bob-Skeleton Athletes. Sensors & Transducers, 184(1), p.26.
Gaida, J.E. and Cook, J., 2014. Treatment options for patellar tendinopathy: critical review. Current sports medicine reports, 10(5), pp.255-270.
Harman, M., Jia, Y., Krinke, J., Langdon, W.B., Petke, J. and Zhang, Y., 2014, September. Search based software engineering for software product line engineering: a survey and directions for future work. In Proceedings of the 18th International Software Product Line Conference-Volume 1 (pp. 5-18). ACM.
Hatziargyriou, N. ed., 2013. Microgrids: architectures and control. John Wiley & Sons.
Hayne, M., 2015. In-situ testing of gym floor impact isolation.
Huang, M., Wang, X., Lu, F.Q. and Bi, H.L., 2013. A coordination of risk management for supply chains organized as virtual enterprises. Mathematical Problems in Engineering, 2013.
Hunt, K., Gray, C.M., Maclean, A., Smillie, S., Bunn, C. and Wyke, S., 2014. Do weight management programmes delivered at professional football clubs attract and engage high risk men? A mixed-methods study. BMC Public Health, 14(1), p.1.
Iyengar, P. and Scherer, P.E., 2016. Obesity: Slim without the gym [mdash] the magic of chilling out. Nature Reviews Endocrinology, 12(5), pp.252-254.
Josyula, L.K. and Lyle, R.M., 2013. Barriers in the Implementation of a Physical Activity Intervention in Primary Care Settings Lessons Learned. Health promotion practice, 14(1), pp.81-87.
Karvonen, S., Polar Electro Oy, 2014. Interface circuitry for gym apparatus. U.S. Patent 8,790,220.
Kaushal, N. and Rhodes, R.E., 2015. Exercise habit formation in new gym members: a longitudinal study. Journal of behavioral medicine, 38(4), pp.652-663.
Khoo, J., Dhamodaran, S., Chen, D.D., Yap, S.Y., Chen, R.Y. and Tian, H., 2015. Exercise-induced weight loss is more effective than dieting for improving adipokine profile, insulin resistance and inflammation in obese men. Int J Sport Nutr Exerc Metab, 25(6), pp.566-575.
Koulinas, G., Kotsikas, L. and Anagnostopoulos, K., 2014. A particle swarm optimization based hyper-heuristic algorithm for the classic resource constrained project scheduling problem. Information Sciences, 277, pp.680-693.
Krist, L., Dimeo, F. and Keil, T., 2013. Can progressive resistance training twice a week improve mobility, muscle strength, and quality of life in very elderly nursing-home residents with impaired mobility? A pilot study. Clin Interv Aging, 8, pp.443-448.
Lassfolk, C., Linnavuo, M., Talvitie, S., Hietanen, M. and Sepponen, R., 2015. Harvesting Features of an Affordable Cognitive Gym for Seniors. In16th Nordic-Baltic Conference on Biomedical Engineering (pp. 71-74). Springer International Publishing.
Lavay, B., French, R. and Henderson, H., 2015. Positive Behavior Management in Physical Activity Settings, 3E. Human Kinetics.
Lkhagvatseren, T. and Hruška, F., 2013, June. Aspects of the development of SmartSuite. In Strategic Technology (IFOST), 2013 8th International Forum on (Vol. 2, pp. 206-209). IEEE.
Markley, J.D., Edmond, M.B., Major, Y., Bearman, G. and Stevens, M.P., 2012. Are gym surfaces reservoirs for Staphylococcus aureus? A point prevalence survey. American journal of infection control, 40(10), pp.1008-1009.
McGill, S.M. and Marshall, L.W., 2012. Kettlebell swing, snatch, and bottoms-up carry: back and hip muscle activation, motion, and low back loads. The Journal of Strength & Conditioning Research, 26(1), pp.16-27.
Minku, L.L., Sudholt, D. and Yao, X., 2012, July. Evolutionary algorithms for the project scheduling problem: runtime analysis and improved design. In Proceedings of the 14th annual conference on Genetic and evolutionary computation (pp. 1221-1228). ACM.
Minku, L.L., Sudholt, D. and Yao, X., 2014. Improved evolutionary algorithm design for the project scheduling problem based on runtime analysis. IEEE Transactions on Software Engineering, 40(1), pp.83-102.
Money, A.G., Atwal, A., Young, K.L., Day, Y., Wilson, L. and Money, K.G., 2015. Using the Technology Acceptance Model to explore community dwelling older adults' perceptions of a 3D interior design application to facilitate pre-discharge home adaptations. BMC medical informatics and decision making, 15(1), p.73.
Nurkkala, V.M., Kalermo, J. and Järvilehto, T., 2014, January. Exergaming Simulator for Gym Training, Fitness Testing and Rehabilitation. InProceedings of the International Conference on Modeling, Simulation and Visualization Methods (MSV) (p. 1). The Steering Committee of The World Congress in Computer Science, Computer Engineering and Applied Computing (WorldComp).
Nurkkala, V.M., Kalermo, J. and Jarvilehto, T., 2014. Development of exergaming simulator for gym training, exercise testing and rehabilitation.Journal of Communication and Computer, 11, pp.403-411.
Pollack, J., 2012. Transferring knowledge about knowledge management: Implementation of a complex organisational change programme. International Journal of Project Management, 30(8), pp.877-886.
Rabbi, F., Park, T., Fang, B., Zhang, M., Lee, Y. and Ranganathan, R., 2016, June. Demo: Towards Immersive and Interactive Gym Exercises. InProceedings of the 14th Annual International Conference on Mobile Systems, Applications, and Services Companion (pp. 114-114). ACM.
Riley, L., 2016. Using Qualitative Methods to Understand Physical Activity and Weight Management Among Bangladeshis in New York City, 2013. Preventing Chronic Disease, 13.
Simonson, R., Cybex International, Inc., 2014. Range limiting device for exercise equipment. U.S. Patent 5,722,921.
Stewart, K.J., Mason, M. and Kelemen, M.H., 2015. Three-Year Participation in Circuit Weight Training Improves Muscular Strength and Self-Efficacy in Cardiac Patients. Journal of Cardiopulmonary Rehabilitation and Prevention, 8(8), pp.292-296.
Sundholm, M., Cheng, J., Zhou, B., Sethi, A. and Lukowicz, P., 2014, September. Smart-mat: Recognizing and counting gym exercises with low-cost resistive pressure sensing matrix. In Proceedings of the 2014 ACM international joint conference on pervasive and ubiquitous computing (pp. 373-382). ACM.
Tremblay, M.S., Lovely, D.F., McInnis, M.D. and Sexsmith, J.R., 2013. Modifications to hydra-gym equipment provide for clinically useful strength measurements. Journal of Orthopaedic & Sports Physical Therapy, 19(4), pp.205-211.
Vanhorn, C.A. and Vanhorn, K.J., Vanhorn and Craig A., 2015. Chair-Based Workout Apparatus and Methods. U.S. Patent 20,150,321,049.
Vozenilek, J., Pospisil, J. and Leen, C., Honeywell International Inc., 2014.Hvac controller with multi-region display and guided setup. U.S. Patent Application 14/266,528.
Xu, J., Zheng, H., Zeng, Z., Wu, S. and Shen, M., 2012. Discrete time–cost–environment trade-off problem for large-scale construction systems with multiple modes under fuzzy uncertainty and its application to Jinping-II Hydroelectric Project. International Journal of Project Management, 30(8), pp.950-966.
Cite This Work
To export a reference to this article please select a referencing stye below: