Discuss about the Marketing Plan for McDonalds Fast Food Chains.
Introduction
McDonalds is one of the largest fast-food chains of the restaurant. Established in 1954, now has around 30,000 outlets in more than 110 countries across the world. McDonalds aims to be the largest fast-food chain of restaurant. But the competition level is quite high. Many top companies like Burger King, Pizza Hut, and KFC are proving to be big competitors of McDonalds. Also, people are getting very health conscious and started avoiding fast-food. For achieving its aim, McDonalds is trying to open its outlets all over the world and come under the reach of the potential customers (Agmon and Sjogren, 2010). McDonalds is planning to introduce a new burger in its menu as to bring some innovativeness to its menu. Burger named 'Veggie Sin' will be targeting the health conscious people as it will be made from wheat flour and organic vegetables. The current situation of the company will be identified with the help of various analyses. After the analysis of current situation the marketing strategy, objectives of sales, market share, and profit will be determined to frame the market strategies. The appropriate communication channels and proper communication mix is important for a company to promote the new product and achieve its goal (Basu, 2014).
SWOT Analysis
A market analysis helps a company find its position in the market. How well it can face the competition and its prospects of achieving success while planning a market plan. McDonalds has also taken a market analysis to determine its current situation in the market. SWOT Analysis helps a company to figure out the strengths it has over its competitors and where it lacks. The threats that a company may face and the opportunities for it are analysed (Yurtseven, 2015). The SWOT Analysis for McDonalds is as follows:-
Strengths
Presence- McDonalds has a worldwide presence which leaves a huge impact on its competitors and creates a brand value. McDonalds has planned its outlets with the aim to come within reach of all types of customers.
Market Leader- McDonalds is a market leader in the global market. Its objective of giving quality at a reasonable price makes McDonald's good place to visit for everyone, therefore, it has a big share in the fast-food industry.
Economic Growth- McDonalds is facing economic growth for a long-term which acts as an advantage in expanding the company. It gives a financial stability to the company (Kamatchi Subbiah Sukumaran, Chandrasekaran Sivasundaram Anushan and Alamelu and Sampath Thiyagarajan, 2015).
Market Segments- with the help of aggressive marketing plans McDonalds captures every targeted market segment. McDonalds decides its targeted customer segment as per the country the outlet is situated in. For example, if McDonalds open its outlet in India then it will aim at vegetarian customer segment as most of the Indians are vegetarian.
Brand Value- McDonalds is a well-known name around the world which increases its brand value. Brand value helps in achieving the targets set by the company.
Customer Loyalty- McDonalds has loyal customers who prefer to eat in McDonalds only which is one of the most important strengths of McDonalds (Kotler et al., 2013).
Weaknesses
Expansion- the saturation of the market has made it difficult for McDonalds to plan expansion. The competitors are also making it difficult for McDonalds to expand.
Innovation- McDonald's product, menu, and theme of restaurants have not shown any innovativeness from a long time. People may get bored due to it.
Limited menu Items- being a fast-food joint McDonalds serves a very limited menu and has very less option that can be a part of McDonald's menu (Klang and Hacklin, 2013).
Opportunities
Attract customer- McDonalds can work on adding new and innovative services and food items in the menu to attract the customers and to improve the outlet chains.
Healthy Food Items- people are getting health conscious which can help in creating a brand new customer segment. Food items that come in a category of healthy food items can be introduced and attract more customers.
Global Expansion- there is many places where McDonald's outlets are still not open. It has a huge opportunity to expand its global presence and reach ore customers (Mujtaba and Patel, 2011).
Threats
Health awareness- people are getting very health conscious thus do not prefer to eat fast-food items. If this awareness spread out more, then it will definitely affect the profits of the company which means a threat to the company.
Currency fluctuations- any type of fluctuations in a foreign currency rates can also be a huge threat for the company (Phadermrod, Crowder and Wills, 2016).
Objectives and Goals
Objectives regarding Sales Volume
McDonalds aims at increasing its sales volume by 15% in the coming six months with the help of a new product that is 'Veggie Sin Burger.' The sales volume will be increased because the targeted customers are those who are health conscious and avoid fast-food or junk-food. For them, it will be a tasty and healthy combination of a quick bite (Qureshi and Hassan, 2013).
Objectives regarding Profit
McDonalds aims at increasing its profit by 10% in coming six months. As the new Burger will be opening a new segment of customers, the aimed profit is sounding reachable. Once the aim is achieved, the company is planning to introduce an organic food section in the already established outlets which will increase the company's profit by 30% (Rodrigues, Nikhil and Jacob, 2016).
Objectives regarding Market Share
McDonalds at present holds the largest market share of the fast-food industry with around eighty-eight billion US Dollars worth across the globe. After the introduction of the organic food product, 'Veggie Sin Burger' McDonalds expects to increase its market by eight billion dollars in the coming six months with the help of the new customer segment (Yurtseven, 2015).
Fig 1: - McDonald's Market Share Across the Globe
Source: - image.slidesharecdn.com
The Marketing Mix of McDonalds (4 Ps)
The marketing mix of a company helps in forming its core marketing system and later helps in achieving company's objectives. The 4 Ps discussed here will help in determining the McDonalds marketing mix.
Product- A considerable emphasis is paid at McDonalds in developing the menu as per the likings of the customers. A market research helps in establishing exactly what customer want. Though the demands and likings of customers change with time, McDonalds also bring new items in their menu and discard old ones and will definitely continue to do so. McDonalds take care that the new product does not affect the total sales. McDonalds has a clear idea that different people have different demands that will be affecting the profit cycle. But, innovation is required to survive the competitive market (Dziawgo, 2012).
Fig 2: - McDonalds Menu
Source: - photos.prnewswire.com
Price- The price of any product should be decided in such a way that people should accept it as worth. If the prices are too low, then the customer may have questions regarding the quality of the product, and if priced too high then the worth of the product is questioned (Kotler et al., 2013). McDonalds have two category food products branded core value product which included McVeggie and McChikhen and branded affordable items which include McAloo Tikki. This help in satisfying needs of all types of customers. Veggie Sin will be included in branded affordable products as people who prefer eating organic and health conscious food want quality and taste in their food and they are ready to pay for it (Klimenkova, 2014).
Promotion- For introducing a product and creating awareness about it the promotion of that product is necessary. This promotion is known as marketing communication which includes all promotional methods. McDonalds use advertising that includes TV, radio, online, print media, and cinemas. Other promotional methods are merchandising, loyalty schemes, discount coupons, direct mail, and door drops. All these promotional activities have one single aim that is to provide the most effective exposure to the product. For Veggie Sin also same promotional activities will be used to provide exposure to it (Men, 2014).
Place- place does not only mean the physical location of the outlets or the products distribution points which in case of McDonalds are spread throughout the world. It includes the whole process of the management and the whole process of bringing the end product to the ultimate customer. The outlets of McDonalds are evenly spread out which make them accessible to the ultimate customers. The drive in and drive thru option increases the accessibility and convenience for the customers (Miettinen and Stenbacka, 2015).
The marketing mix includes diversified accesses that help in meeting varied business concerns in the global market. McDonalds has set goals and objectives regarding the sales, profit and market share across the world which is determined with the help of the marketing mix. Marketing mix act as a basis for any objectives needs to be set because it includes the most basic things about any product. For example, marketing mix explains the tactics that a company uses to reach its target customers. Marketing mix applies McDonald's corporate standards globally. The effectiveness of the company in the implementation of its marketing mix added to the out-standing performance of the McDonalds in the global fast-food industry (Muellerleile and Akers, 2015).
Promotion
Communication Objectives
McDonalds is a well-known brand; it has its outlets spread throughout the world. The customer loyalty is very high for McDonalds. With the introduction of 'Veggie Sin' McDonalds aims at reaching a totally different segment of customers who want healthy food. It is very important to communicate its target customer segment the difference between the other burgers that McDonalds serves in its outlets and 'Veggie Sin.' The awareness regarding the health benefits of 'Veggie Sin' and its organic nature has to reach the customers. Then they will ask for that burger. This can be achieved with the help of appropriate communication channels that can help McDonalds to reach its customers. The objective of McDonalds is to reach about one billion people across the world and inform them about the introduction of 'Veggie Sin' and its health benefit and organic nature. Out of these one billion customers, the fifty percent customer segment will include the youngsters. With the help of sales promotion McDonalds aims to retain its old customers and introduce them with the new menu item (Mujtaba and Patel, 2011).
Fig 3: - Communication Cycle
Source: - lukasweber425.files.wordpress.com
Communication Channels
McDonalds has a strong international presence which helps it targeting its customers on a global level. McDonalds spends a huge amount of its hard earned money on the promotion of its brand. Its communication strategies or mix is decided as per the country it is operating in. Like in the India emphasis on vegetarian items are required as most of them there are vegetarians, same for Australia there people love eating non-vegetarian dishes thus, such dishes get focused in the communication strategies of McDonalds (O'Barr, 2015). Many different communication platforms are used by McDonalds to promote its product across the world. These promotion channels are decided as per the targeted customer segment like for youth social media is used, for adults and kids television advertisement is used, and for the office segment newspaper advertisement is preferred. Through this segmentation, most of the customer segment get covered (Todorova, 2015). Few communication channels used by McDonalds are as follows:-
Advertising- McDonalds spend its maximum budget of advertising into print and media advertising. It attempts to include the factors of creativity and uniqueness of McDonald's marketing strategy into print and media advertising. Though, McDonalds is not able to get the return of interest through advertising with print and media. The profits do not show the targeted goals of the company. The reason behind it can be the type of food served in McDonalds is considered unhealthy which make people chose a different option. Now with the introduction of an organic burger 'Veggie Sin' which is tasty and healthy, McDonalds aims at achieving its targeted profits (O'Barr, 2007).
Fig 4:- Newspaper advertisement of McDonalds
Source: - files2.coloribus.com
Sales Promotion- McDonalds uses another popular promotion technique of communication that is sales promotion. Few very famous sales promotions of McDonalds are free breakfast for few nominated lucky customers through mobile phone, another very famous example of sales promoting idea used by McDonalds is 'McPick 2' which was a limited period deal where a customer can select many items out of the menu just for 2$. These sales promotion activities were a successful method of communication used by McDonalds in past and will be using again in future for promoting 'Veggie Sin' amongst the targeted customers (Qureshi and Hassan, 2013).
Social media- a very famous communication channel to attract the young generation is social media. Advertisement and logos are used in social media for communicating the message that a company wants to give to its customers. It includes all types of promoting actions like the discount offer; free delivery, coupons, and buy one get free options. Currently, young generation is very much aware of their health, so social media will be the best communication channel to introduce 'Veggie Sin' amongst the youngsters. This communication channel includes Facebook, Twitter, YouTube, etc (Reeves, 2014).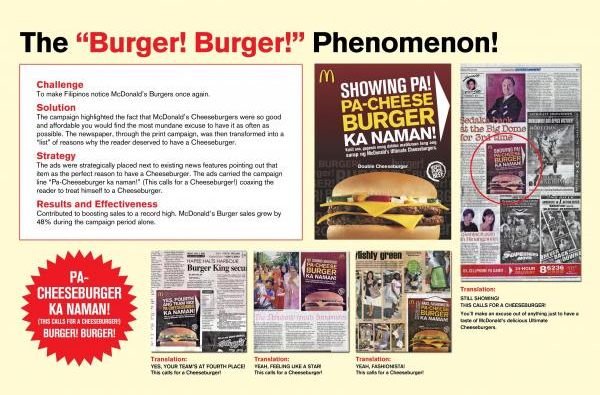 Fig 5:- Online Promotion of McDonalds
Source: - www.dailyherald.com
Personal Selling- this communication method is used at the outlets where the employees suggest the regular customers to try the new menu item. This communication channel will not be able to cover the main targeted customer segment as they do not visit the outlets. But still, it will help in creating awareness about the product amongst the existing customers.
This is a communication mix that is going to help the company in achieving its target that it has determined regarding the introduction of the new organic burger 'Veggie Sin.' (Schwarz, 2007)
Conclusion
McDonalds is a very well-known brand that has more than 30,000 outlets spread throughout the world. Like other McDonalds also face competition and has to work on bringing innovativeness in its menu and restaurants to attract the customers and face the competition. To attract the new customer segment of people who are health conscious and do not prefer eating fast-food, for them, McDonalds has brought a new Burger known as 'Veggie Sin.' McDonalds has aimed the health conscious people. Thus, this burger is made of organic products and is totally healthy. For introducing the product the company has taken a market analysis that is SWOT Analysis. Once the current position of the market is determined the company has determined its objectives regarding sales volume, profit and market share that will change with the introduction of the new product. To determine the market strategy the 4 Ps model has been applied to the company which will help in deciding the market strategy by the new product. The communication mix decided to promote the new burger 'Veggie Sin' will help in attaining the communication objective of the company that is to make customer aware of the new product. The whole report concludes the full market plan for the purpose of introducing a product in the market.
References
Agmon, T. and Sjogren, S. (2010). Introduction: The Thousand Ways to Market Integration. Review of Market Integration, 2(1), pp.1-8.
Basu, S. (2014). Product market strategies and innovation types: finding the fit!. Strategic Direction, 30(3), pp.28-31.
Kamatchi Subbiah Sukumaran, A., Chandrasekaran Sivasundaram Anushan, S. and Alamelu and Sampath Thiyagarajan, R. (2015). Diagnosing SWOT through Importance-performance Analysis.RJASET, 9(9), pp.792-796.
Klang, D. and Hacklin, F. (2013). Retaining fit between business models and product market strategies in changing environments. IJPD, 18(3/4), p.311.
Mujtaba, B. and Patel, B. (2011). McDonalds Success Strategy And Global Expansion Through Customer And Brand Loyalty. Journal of Business Case Studies (JBCS), 3(3), p.55.
Phadermrod, B., Crowder, R. and Wills, G. (2016). Temporary removal: Importance-Performance Analysis based SWOT analysis. International Journal of Information Management.
Rodrigues, J., Nikhil, S. and Jacob, S. (2016). Promotional Strategies of McDonalds and Market Effects. Journal of Management Research and Analysis, 3(1), p.53.
Yurtseven, C. (2015). Market Share Restrictions and Efficiency. ME, 06(12), pp.1181-1188.
Dailyherald.com. (2016). www.dailyherald.com/storyimage. [online] Available at: https://www.dailyherald.com/storyimage/DA/20141013/business/141019390/AR/0/AR-141019390.jpg&updated=201410140904&MaxW=800&maxH=800&noborder [Accessed 20 Sep. 2016].
Dziawgo, D. (2012). Investor Relations & Importance in the Global Financial Market. Equilibrium, 7(2), p.59.
Files2.coloribus.com. (2016). [online] Available at: https://files2.coloribus.com/files/adsarchive/part_1181/11815955/file/mcdonalds-cheeseburger-arrow-series-small-52450.jpg [Accessed 20 Sep. 2016].
Klimenkova, M. (2014). Communication policy of the enterprise as the marketing mix element. Science Almanac, (1), pp.24-26.
Kotler, P., Kellar, K., Ang, S., Leong, S. and Tan, C. (2013). Marketing management An Asian perspective. 6th ed. Pearson: Pearson.
Lukasweber425.files.wordpress.com. (2016). wordpress. [online] Available at: https://lukasweber425.files.wordpress.com/2013/12/promo-mix1.jpg [Accessed 20 Sep. 2016].
Men, L. (2014). Strategic Internal Communication: Transformational Leadership, Communication Channels, and Employee Satisfaction. Management Communication Quarterly, 28(2), pp.264-284.
Miettinen, T. and Stenbacka, R. (2015). Personalized pricing versus history-based pricing: implications for privacy policy. Information Economics and Policy, 33, pp.56-68.
Muellerleile, C. and Akers, J. (2015). Making Market Rule(s). Environment and Planning A, 47(9), pp.1781-1786.
O'Barr, W. (2015). What Is Advertising?. Advertising & Society Review, 16(3).
O'Barr, W. (2007). Ethics and Advertising. Advertising & Society Review, 8(3).
Photos.prnewswire.com. (2016). photos.prnewswire. [online] Available at: https://photos.prnewswire.com/prnfull/20120912/CG72799-INFO [Accessed 20 Sep. 2016].
Qureshi, A. and Hassan, M. (2013). Impact of performance management on the organisational performance: An analytical investigation of the business model of McDonalds. IJAREMS, 2(5).
Reeves, R. (2014). Excerpts from Reality in Advertising. Advertising & Society Review, 15(2).
Todorova, G. (2015). Marketing communication mix. Trakia Journal of Science, 13(Suppl.1), pp.368-374.
Schwarz, P. (2007). Sales promotion. Anaesthesia, 43(3), pp.248-248.
Yurtseven, C. (2015). Market Share Restrictions and Efficiency. ME, 06(12), pp.1181-1188.