Discuss about the Marketing plan of AirAsia.
Company Profile
AirAsia Berhad is a low-cost Malaysian airline whose headquarter is near Kuala Lumpur, Malaysia. This is one of the leading airlines in Malaysia by fleet size and the number of destinations. Air Asia Berhad was established in 1993 and begins its operations in 1996. The main base is at Kuala Lumpur International Airport, whereas the secondary hubs are located at Kota Kinabalu International Airport, Penang International Airport and Senai International Airport.
It is a renowned low cost airline one of the major low fare, no frills airline. The slogan of Air Asia is 'Now Everyone Can Fly'. The Air Asia additional subsidiaries are like Thai Air Asia, Indonesia Air Asia, Viet Jet Air Asia and Air Asia Red Tax. The company is currently serving at 165 destinations across 25 countries.AirAsia Berhad is an airlines organization that gives aircrafts benefits locally as well as globally. AirAsia is developing a huge customer market comprising of young, working grown-ups and middle-class income group (AirAsia Bhd (AIRA.KL). 2017).
The distributions system of AirAsia's management service is done through its official site, www.airasia.com. An examination of internal and external situation of AirAsia shows critical qualities, its centred administration and its fundamental arrangement of action. For now their flaws are limited to administration assets due to ease, forced HR and in totalling its overpowering dependence on outsourcing (Jarach, 2017).
Internal Environment
Mission Statement
The brand proclaims to become Asia's leading low fare no frills airline. They introduced the concept of "ticketless" travelling. In coming time the company is planning to unveil more inducement plans to persuade more air travel among local.
Organizational Structure
The organization structure of AirAsia is huge as it includes AirAsia Indonesia, AirAsia India, AirAsia Cambodia, AirAsia Thailand etc. The main personnel associated with the brand are:
CEO of AirAsia: Dr. Tony Fernandes.
He carries out the entire operations of AirAsia.
Deputy CEO and co-founder of AirAsia, KamarudinMeranun
He is responsible for being concerned in the growth of the company and its other ventures.
AirAsia Berhad (Malaysia) - Aireen Omar, CEO
AirAsia Indonesia - Dendy Kurniawan, CEO
Thai AirAsia - Tassapon Bijleveld, CEO
Philippines AirAsia - Captain Dexter Comendador, CEO
AirAsia India – Amar Abrol, CEO
AirAsia X Berhad (Malaysia) - Benyamin Ismail, CEO
Thai AirAsia X - Nadda Buranasiri, CEO
Indonesia AirAsia X – Dendy Kurniawan, CEO (Organizational structure, 2017)
Corporate Culture
AirAsia in the recent time has developed a brand that is easy to get to by each person. One of the primary driving forces beneath their brand is exclusive and welcoming AirAsia experience. The favourable ethnicity is the reason behind easy ease of access in their operations including the management, guest's experience, and ground and flight operations. This has helped in adding a great experience through its low cost flights. The customers are satisfied which is creating a positive impact in the mind of the people service. The brand has a primary focus to create a chain of loyal customers by providing them with effective services (Shuk-Ching Poon and Waring, 2010).
External Environment
Competitive Environment
The company is facing multiple competitions from the other low cost airlines. The competition has increased in the recent time causing direct competitions. The other companies providing with low cost services in the recent time are:
Firefly (Subsidiary of Malaysian Airlines)
MAS (Malaysian Airlines)
Malindo airlines
The current issue the company is facing is in term of Indonesian culture. They do not favour travelling with a light and minimum baggage. This is causing a huge pressure over the company hence affecting the company on the technical ground. This has created opportunities for other airlines by adding value through a relatively higher cost (Lee and Carter, 2012).
Pestle Analysis
The airliner is facing problem due to its cheap flights. The fuel prices are increasing consistently creating an excess pressure on the company.
Economic Environment
In Malaysia, the industry is booming with an increase in the living standard. They are also improving utilization of technology and resources hence creating a favourable environment. Malaysia has more middle class society. Air Asia's low cost concept is accepted due to the low fare strategy (Razak, Ilias, and Rahman, 2009).
AirAsia for the reason has developed a hub in countries such as Thailand and Indonesia. By developing the hub they are able to utilize skilled labour forces at a cheaper rate. The economic environment includes introduction to AirAsia X. This Airline flies on long haul routes. The Developing economies have provided the company with an opportunity of gaining more market potential. This has also helped them in gaining recognition internationally. The AirAsia's economic environment occupies a good economic infrastructure and has contributed in rapid growth by building a new hub for its aircrafts (Hooi and Smyth, 2006).
Technological Environment
AirAsia rely on technology for carrying out their business operations. The technology handling by AirAsia has helped in improving the business significantly. Most of the business is conducted through online ticket bookings. The customers can even check flight information from their online portal. This allows them to do online shopping and provides with an opportunity to book hotel rooms. They have also created a blog giving priceless insight about their company, cultures and much more. It facilitates customers to give their feedback, in spite of whether it's encouraging or unconstructive. This helped the company in getting more information about AirAsia allowing improvement of its quality of services (Lee, 2014).
Political and Legal Environment
The Safety measures are one of the most important elements of an airline company. AirAsia has attained an Air Operator Certificate issued by the Civil Aviation Authorities. The pilots are well-trained and has obtained flying license from the Civil Aviation Authority. The Low Cost Carrier Terminal (LCCT), Berhad is regularly inspected for managing the operations as well as for maintenance purpose. They also make sure that everything is been managed efficiently out resourcefully by managing safety and security of passengers. The political and legal environment also looks after open skies agreement with neighbouring countries (Kumar and Bosangit, 2014).
Socio-cultural Environment
The socio-cultural environment includes many things. The demographic feature of AirAsia sees it interesting to an extensive range of income groups. The organization is not only targeting the medium income groups but also the low income segment. It is considered as one of the efficient airliner with an efficient flying experience corresponding to their income. They are providing with bountiful of opportunities by variety of accompaniments such as food and beverages, sleeping kit and so on. AirAsia is also paying awareness to the needs of people in Malaysia as well as its neighbouring countries. AirAsia has also conquered the obstruction of language through its website. Their official website lever all the booking and sales where they can choose language according to their convenience. At present, the Air Asia's website provides options such as Thai, Tieng Viet (Vietnam language) as well as Bahasa Malaysia, Mandarin, Japanese, Indonesian Language, and English. Through its website the company is providing with different options by placing multiple languages. It has made its website user-friendly and also advertises its services successfully.
SWOT Analysis
The SWOT analysis gives with summary of the strengths, weakness, opportunities, and threats. This allow in assessing the challenges it faces in the internal and external environments.
Strengths
Below mentioned are the strengths of Air Asia:
Low fee operation
Low management level, effectual, purposeful and belligerent management
Easy established business model throughout constant delivery of low fare
break through and excite to potential markets
Multi-skilled employee's in the organization adding value to the organization (Kurniawan, 2010).
Weakness
The weakness of Air Asia is as follows:
The Service supply is inadequate due to lower costs
They have a limited human resources that is unable to handle uneven circumstances
Government interfering and guideline on airport deals
Non-central placement of secondary airports
The Brand is essential for market position and budding issue
Important dependence on outsourcing.
There is a high level of competition with other low cost carriers
Opportunities
The different opportunities identified by Air Asia are as follows:
Increase in the middle class population increasing the market opportunities.
Providing with an optional services that allow passengers to get full service airline
They have an opportunity to form an alliance with a low cost airline.
Low cost provides with an upper hand regardless of high fuel prices
Threats
The threats identified by Air Asia are as follows:
There are other Full service airlines who are selling tickets at a low price
entry of low cost carrier causing an excess competition
Users insight that low cost airline may give and take their safety features for managing low costs
Accident, terrorist attack, and disaster are causing a threat to the company
An increase in the operation cost is adding value
System disorder is caused due to heavy dependence on online sales.
Marketing consumer Behavior
Their marketing strategy is to become the lowest cost short haul airline. The low cost airline continuously launches new routes to give a tough competition to other airliners. They want to introduce new plans, introduce more routes, and add frequencies. AirAsia has turned their low-cost carrier terminal at KL International Airport into their regional hub for the purpose of budget travel in order to achieve philosophy of "Now Everyone Can Fly" (Hamzah, 2004).
Culture: The organization In order to achieve goal will guide its marketing activities by following different strategies. Their strategies are primarily focused on culture dynamics in the particular country. It is important to analyze their target, positioning, positioning etc strategy to provide with a vivid view about the company (Ong and Tan, 2010).
Social: AirAsia has targeted the low-income consumers and has expanded their business avenues in other countries by targeting the middle-class group. Through this strategy they have continued target its existing customer's while expanding its routes to more developing and developed countries (Nathan, Chiun and Suki, 2017).
Consumer decision making: Position strategy and low pricing policy allow them with uniqueness over its competitors. AirAsia will persistently continue to position itself as low-cost airline by giving incentives through their loyalty programs. In this way the brand is able to attain recognition against other airlines services.
Product Strategy
The product strategy is related with maintenance of product. AirAsia has maintained itself as an efficient brand by providing services which are suitable to customers. They have eventually increased the flight frequency to maximize its profits. They are operating in almost all destinations that is providing with a competitive edge.
Pricing Strategy
The pricing strategy is based on low cost in order to organize the resources in the best and effective way. AirAsia maintains low fares to create affordability and exercises strategy for pay only for things that are utilized (Adapa and Roy, 2017).
Promotion Strategy
By generating effective promotional strategy the brand aims for generating positive customer feedback. They are giving away tickets for free through different deals hence attracting customer from different background. This is important for the business organization to form relations with hotel and everlasting promotional fares to attract more customers (Jafari and Vasili, 2006).
Place Strategy
The place strategy helps in managing the operations in the best possible way. AirAsia doesn't run the traditional mode of services placement. It has recently launched mobile facilities to facilitate efficient service model (Somwang, 2008).
Marketing Objectives
The marketing objectives of AirAsia Berhad are as follows:
They want to be the lowest cost, short haul airline
Want to launch new routes under AirAsia.
Targeting Strategies of AirAsia
The Target Market of AirAsia is its existing markets. The primary consumer market is as follows:
Demographics
Male and female young adults, working class and middle income group is the part of the target market
The Age group is : 20-50 with a Household income of : MYR 45 000
Those who want to Travel in a budgeted aircraft
Individual flying on domestic and international routes for business
Substitute of other transportation channel. It also provide with a Time convenient travelling option for students (Yashodha, 2012).
Geographical
They are running airline service in almost all the parts of Asia. They have made flying a possible and reasonably priced option in travelling. They are also running various promotional tools which include Giving away of free seats during certain celebrations. This has helped the airliner in gaining a comp competition edge against other. AirAsia's is pushing more concentration towards the airlines allowing people to focus on other options. The purpose behind the strategy is to generate great amount of cut-throat competition (Athirah, 2011).
Psychographics
The airline is very much vigilant on internet and promotes mostly through SMS.
The consumers are technology savvy and are linked through social networks (Wong, 2014).
They do understand the mindset of the consumer and build strategies accordingly
Organizational Markets
The company in order to hold the new market has to target on expanding its distribution and sales of its services. This will allow the airliner to gain the effective market strategies.
They are focusing on Media organizations
business hiring international citizens
Travel packages offered by agencies.
The Media organizations do carry out advertising shooting at international location. There are large group of people who are concerned in those tasks. By targeting travel agencies AirAsia can increase frequency of individual travellers to travelling to tour groups (Kotler, 2012).
Positioning Strategy
The company is following two levels of positional strategy. It primarily revolves around Re-positioning. The competitors are the other airliners who are the part of airlines industry. The Re-positioning strategy involves the airlines industry to be a low-cost carrier, reasonable, competent and without the frills flights. They are using the slogan "Now everyone can fly". AirAsia positioning strategy is to De-position competitors. AirAsia budget airline mark out as a process to spread the idea that AirAsia regarding the affordability. They also communicate the idea that the aircraft are well-organized, active and provide better service. The goal is to De-position the brand name by increasing the demand of low-cost flights. Through this strategy they are able to "reposition" their competitors as substitute. They are also providing with an optional hotel bookings, packages that are customizable packages (Pungnirund, 2015).
The company has a goal to produce effective outcome among the consumers. They only have to rely on one shortest source to arrange all the travel needs. They have association with the hotel chain which is giving them a competitive edge. Their expansion strategy in the South East Asia is changing the whole scenario. More routes are been added in order to increase the channel.
Marketing Mix
Product Strategies
AirAsia is following a philosophy of proving the low fare and no frill prices for the period of 3 years. Over the year the company has gained more customers. They have developed the primary products and services to meet the customers' expectations. They allow customers to travel on a low cost. Therefore, the hum is to generate products and services by competence and expediency such as online bookings. Their strategy is to create ease in the tourism industry. The organization is to create more opportunities in order to gain effective results. AirAsia is practicing higher frequency "high traffic" routes. The airline serves as a convenient form of commutation procedure in certain area. It has launched booking services to provide customer competence. The huge structural change in banking dynamics facilitates customers to pay for tickets via Credit Cards. It is helping in online transactions and verifications.
Pricing Strategies
AirAsia's pricing strategy is to penetrate in the market through cost cutting. This will allow them to bring the fares at a low price. The "low fare, no frills" idea helped in effective customer handling. They have also diversified market through by providing on-site services.
Promotion Strategies
AirAsia is providing with a promotional strategy to generate positive consumer feedback in a cost-effective manner. The process of giving away of free seats and tickets is to generate awareness. AirAsia generates wonderful amounts of publicity with incessant promotional offers. The generous amount of diversification has helped the organization in creating world-wide attention. Being the low-cost airline the company is able to capture a current local market (Nair, et al 2012).
Place Strategies
The company has designed its strategy to enable itself to move away from traditional organizations. This strategy will allow in developing an effective placement services to rather than hassle free commutation.
Recommendations
The company has to join with Virgin Group. The company needs to put effort to develop a pan-Asian low cost airline serving Australia and New Zealand market. The joint venture will help Air Asia to cultivate in Asia. Similarly this will allow it to extend services in south-east Asia.
They should introduce smart card to motivate ticketless booking. They can even offer two kinds of smart cards for ordinary travellers and business travellers. In additional they should cut down the additional charge. The ticket fee is low; but the price for other items like food and beverages are expensive. It is recommended to AirAsia to reassess its strategy in order to attract more customers.
Gantt chart
The GANTT CHART is based on 3 years divided into 4 quarters. The objective is to divide the research plan in a systematic way by dividing the time in a specific framework. This allow in developing a better understanding. Developing the research work in a definite way will allow in researching information in an appropriate way. It include division of research in 8 parts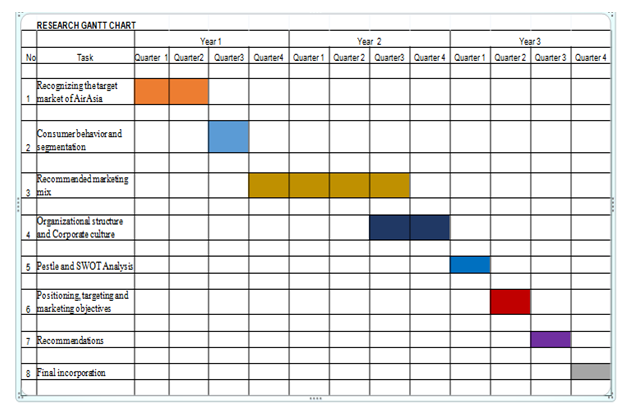 (Source: By Author)
Conclusion
The company is following a strategy that focus on everyone can fly. Their first choice is to create awareness among the people regarding the low cost airline. It allows everyone to have a mind-set that Air Asia is a very low fare airline. Moreover, Air Asia does an aggressive advertisement campaign to attract more customers. They are known globally as a well-known Organization. It further provides staff with a friendly environment so that their customer does not feel bored. The effective customer service is important aspects in gaining a competitive business strategy. To Conclude, Air Asia is the finest low cost airline to become successful in Malaysia.
References
Adapa, S. and Roy, S.K., 2017. Case Study 6: Malaysian Airlines Versus AirAsia: Customer Satisfaction, Service Quality and Service Branding. In Services Marketing Cases in Emerging Markets (pp. 67-75). Springer International Publishing.
Ahmad, R., 2010. AirAsia. Asian Journal of Management Cases, 7(1), pp.7-31.
AirAsia Bhd (AIRA.KL). 2017. Online. Available at : https://in.reuters.com/finance/stocks/companyProfile?symbol=AIRA.KL Accessed on: 25 July 2017
Athirah, M.T., 2011. The Relationship Between Service Quality and Passengers Satisfaction: A Case of Air Asia Passengers (Doctoral dissertation, Universiti Utara Malaysia).
Hamzah, A., 2004. Policy and planning of the tourism industry in Malaysia. In The 6th. ADRF General Meeting.
Hooi, L.H. and Smyth, R., 2006. Marketing" Malaysia welcomes the world": are Malaysia's tourism markets converging. Monash University Business and Economics, ABERU Discussion, Paper, 26.
Jafari, S.M. and Vasili, M., 2006, September. MARKET ENTRY OF A LOW COST CARRIER: THE EXPERIENCES AND IMPACTS OF AirAsia. International Marketing Management Conference.
Jarach, D., 2017. Airport marketing: Strategies to cope with the new millennium environment. Routledge.
Kotler, P., 2012. Rethinking marketing: Sustainable marketing enterprise in Asia. FT Press.
Kumar, A. and Bosangit, C., 2014. Introduction to marketing communications and social media marketing. In Marketing cases from emerging markets (pp. 139-142). Springer Berlin Heidelberg.
Kurniawan, B., 2010. Factors affecting customer satisfaction in purchase Decision on ticket online: a case study in air Asia.
Lee, C., 2014. Competition law enforcement in Malaysia: Some recent developments. Malaysian Journal of Economic Studies, 51, p.77.
Lee, K. and Carter, S., 2012. Global marketing management. Oxford University Press.
Nair, S.K.S., Paulose, H., Palacios Fernández, M. and Tafur Segura, J.J., 2012. Identifying the core competence as a key requirement for business model innovation. The case of Airlines as a service industry.
Nathan, R.J., Chiun, D.C.F. and Suki, N.M., 2017. An Online Marketing Strategies Assessment for Companies in Airlines and Entertainment Industries in Malaysia. In Handbook of Research on Leveraging Consumer Psychology for Effective Customer Engagement (pp. 1-15). IGI Global.
Nopakhun, S. and Assenov, I., LOW-COST AIRLINES IN THAILAND: DIFFERENTIATION OR PRICE COMPETITION?. Welcome Message, p.82.
Ong, W.L. and Tan, A.K., 2010. A note on the determinants of airline choice: The case of Air Asia and Malaysia Airlines. Journal of Air Transport Management, 16(4), pp.209-212.
Organizational structure, 2017. Online. Available at : https://www.airasia.com/my/en/about-us/ir-organizational-structure.page Accessed on: 25 July 2017
Poh, L.S. and Mohayidin, M.G.B., Competitiveness Pricing Strategies of Low Cost Airlines.
Pungnirund, B., 2015. The Relationship of the Marketing Mix, Brand Image and Consumer Behavior of the Low-Cost Airline Service. World Academy of Science, Engineering and Technology, International Journal of Social, Behavioral, Educational, Economic, Business and Industrial Engineering, 9(12), pp.4149-4153.
Razak, M.Z.B.A., Ilias, A. and Rahman, R.A., 2009. Differentiation strategies of internet retailing (unique, value and return): A focused web evaluation into airline service provider. International Business Research, 2(2), p.40.
Shuk-Ching Poon, T. and Waring, P., 2010. The lowest of low-cost carriers: the case of AirAsia. The International Journal of Human Resource Management, 21(2), pp.197-213.
Somwang, C., 2008. An Assessment of Passengers' View of Service Quality in Thai Low Cost Carriers. RU Int J, 2(1).
Wong, W.M., 2014. AirAsia's Application of the'Thirty-Six Stratagems'. Undergraduate Research Journal for the Human Sciences, 13(1).
Yadav, J.P., " MARKETING STRATEGIES OF FULL SERVICE AIRLINES AND ITS EFFECT ON CUSTOMER LOYALTY.
Yashodha, Y., 2012. Air Asia Berhad: Strategic analysis of a leading low cost carrier in the Asian region. Elixir International Journal, pp.11164-11171