• Introduction of the Energizer, the nature of its business and any other relevant facts.

• Provide a PESTEL analysis of the Energizer.

• Provide a Porter's Five Forces analysis of the Energizer.

• General Conclusion / recommendations for the Energizer based on the external analysis.
Introduction
Energizer is a hundred years old company which mainly worked for a battery technology. Energizer is a device that supplies electrical energy. Long ago Energizer focused on the dependable of its flashlight products and during that time forming not only the manufacturing specialisation but also involved in lighting product. After few years this Energizer Company merged with a national carbon company. After 30 to 40 years, this company worked for only full line supplier of flashlights and batteries for all size. Then Eveready Battery Company or Energizer introduced in 1956 with first 9 volt battery. This battery is first use in transistor radios. Energizer includes 30 brands and over 13000 people in 50 countries all over the world. (Lenk&Lenk, 2011)
Chargeable and rechargeable batteries are mainly used in electronic goods. It is the best battery for rechargeable purpose. Modern energizer chargeable and rechargeable batteries hold more than twice as much energy by weights. Most researchers think that improvements of chargeable and rechargeable batteries can squeeze in more 25% energy. Many research teams and companies in Asia, the Americas and Europe are looking for this chargeable battery. Energizer battery has different technical information which is discussed below. The batteries do not have added mercury or cadmium. The batteries possess Milliamp hour's capacity. Energizer battery has selection indicator and has high drain. So this company is a consumer goods company operating globally in the broad categories of household and personal care products. Energizer Company offers solution about the portable power, electronic goods like lighting personal intensive care, feminine care or baby care. (Bruce, Scrosati&Tarascon, 2008)
SWOT analysis of Energizer
Energizer mainly manufactured commercial product including primary batteries, flash lighting and portable lights. This company also presents strength, weakness, opportunities and threats. (Zettl&Zettl, 2013)The main strength of Energizer is geographically diverse business, the reputation of this company, global market leader and strong market position. The weakness of Energizer is significant of research and development. Energizer has different types of opportunities that is expanding their business, profitability of product, customers satisfaction for this product. Volatile commodity prices are the threats of the Energizer. Because volatile commodity prices are increase the risk of the company. It also makes long term forecast more difficult and long term investments to meet demand is more difficult. So this is the description of SWOT analysis. (Yuniarti, 2015)
PESTEL analysis of the Energizer
PESTEL analysis is an idea about marketing belief. However, it is also termed as an opinion which can work as instrument for the companies for the purpose of tracking the atmosphere, as they are designing anything new as project, product or services. PESTEL analysis is a tool which is used for decision making purpose for an organisation. PESTEL analysis is one type of tool of strategic management. The main objective of PESTEL analysis is to show that how the factors influenced the business performance. Six types of environmental influenced including in the PESTEL analysis.
The name denotes the performance as P for Political, E for Economic, S for Social, T for Technology, E as Environmental, and L as Legal. Now we are discuss about the six types of analysis. (Guerra-López, 2013)
First we discuss about Political Sector. Political play an important role in a company. Political factors mainly balanced in the system and social market. Political factors even help to determine the location of corporate headquarters.
There are different types of political factors. That is tax policies, stability of govt, entry mode regulations, social policies and trade regulations. Tax policies are the number one policies which are used for the countries rule. For the Energizer company tax policies is varied on the country's tax rule. For the country of Singapore there have traditional aim of tax policy. Energizer is maintained the complete tax policy of this country. This factor focuses on the scope through those who convince the government's economy or any other point. This factor also determined over the services provided by the government or can say the merits of the government and also the not supplied services or demerits of laws and government. (Galindo Martin & Nissan, 2010)
Then we discuss about the economic factors. Economic growth is very important factor for the company. In the economic factor unemployment rates, interest rates, inflation is the main factor of the growth of economic. But in the Singapore is ranked third in world economic forum. Energizer is also helped for this economic growth of this country. It involves the rate of exchange, rate of interest increase in economy, and also the rate of inflation. This factor has an impact over the business immensely for demand and supply as well as the level of production and the decision making process. (Rauch, Göttsche, Brähler& Engel, 2011)
Social factor is also factors of the individual or the consumer. The social factor is focused on population, wealth distribution, changes in life style and educational level. Energizer is a consumer forum. Energizer always manufacture product with the consumer's psychology. So for that Energizer is very reputed company in the Singapore for this good relationship with consumer. Technology is great asset in management. Role of technology is increasing every year. The common technology factor is discovers and innovations, technological innovations rate, new technological stage. The factor also involves the culture views and also health awareness, rate of increase in population, determination on safety. (Calendar, 2011)
Technology factor focuses on the appropriate creativity in technology which required in recent times, which can impact over the industries and the market in favour of market or not. There is need of awareness for technology in large amount so that research and development can take place accurately. As much technology will develop it will affect the cost and quality and can move towards the innovation. This factor focuses on the restriction to entry, efficiency of production level and also affects the outcome decisions. (Langdon, 2010)
Environmental factors involve the ecological and atmosphere ideas like as climate and its changes which influence the tourist and also effect on the industry and farming as well. It is mainly depends on energy consumption, wastage of throwing away, environmental protection law also very much important for the environmental factor. Energizer always manufactures products with the protection of environmental law. This process focuses or influenced through the nearby environment. This view makes PESTEL is an essential factor specifically in tourism, agriculture and in the demand of the product.
The legal factor of PESTEL analysis is learning about laws and regulations. This regulation is discussed about employment regulation, product regulation, competitive regulations and health and safety regulations. In the Energizer employment regulation, product regulation, and health and safety regulation is also maintained in Singapore. It has two sides external and internal both. Due to few of the laws business environment get affected in few countries while certain companies maintain few of the policies for their security. This factor holds various kinds of law through which companies process of production, costs depends (Pestel, 2014).
Porters five forces of analysis of the Energizer
Porters five forces analysis is mainly prepared for the calculation of strength and weakness of the organisation. Here we discuss about the five porters forces of analysis of Energizer. For the profitability of business within the structure of the industry is depending on the Porters five forces. That is the Competition in the industry, power of suppliers, power of customers, threats of substitute's product, potentiality of new entrants of product.
Competition in the industry is the main analysis of energizer. Competition is very important sector for the organisation if there is no competition there has any new idea about growth. The competition between firms determines the attractiveness of a sector.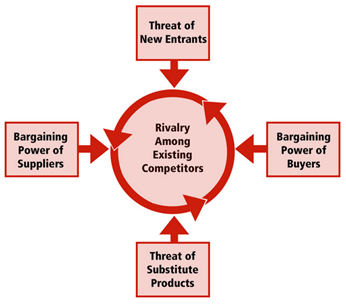 Power of suppliers is also important sector in the market of Energizer. Huge suppliers for the company is prepare huge growth of the organisation. Powerful suppliers can impose their conditions in terms of price, quality and quantity. Energizer has a large number of suppliers as the batteries made by Energizer require lots of raw materials. The different types of raw materials which Energizer requires are carbon, Alkaline, Lithium, nickel, Silver etc. All these supplies are able to exercise considerable powers on the organization. Warehouses are looked after by the different specialist distribution companies. Considering the power of the suppliers, Energizer has framed a community network with the suppliers.
Similarly that power of customer is very important part of organisation. Without customer organisation is no value. So customer is the backbone of the organisation. If the bargaining power of customer is high, they influence their profitability to impose their requirement in terms of price, service, and quality. (Hoque, Walsh, Mirakaj& Bruckner, 2011)
Threat of substitute is yet another factor which should be considered by the management of Energizer. The introduction of new technologies has created different kinds of substitutes which is creating a major threat for the organization. With the passage of year's battery have provided convenience to different kinds of people. But, till toady battery has not been recycled properly. With new innovation and development of technology, new devices has been launched which runs on solar power. The new devices which run on solar power charge their batteries with the help of the solar power and can work for long weeks. Most importantly, the introduction of solar energy has reduced the dependency on the usage of battery. Furthermore, the use of solar energy has also provided to be environmental friendly as it uses solar energy and changes it into electricity. Thus, the introduction of the devices which uses solar energy has turned out to be a major substitute of Energizer. The devices which use solar energy are also light weight and are less costly as compared to the devices which run on batteries. Thus, customers now prefer to purchase these new substitutes. This is decreasing the sales of Energizer products. They are in great threat from the companies which produces substitutes and are much better as compared to that of the products of Energizer.
Intensity of competitive rivalry within the competitors in market shows the expansion through which companies among the market place force over others and restrict the benefits efficiency. If the competitors insistently targeting their competitors market and costing products as well then it's obvious that the intensity will get high of the rivalry. The introduction of the higher performance primary as well as rechargeable batteries has turned out to be the major competitors of lower performing batteries. The most significant competitors of Energizer are Duracell International and Panasonic.
Another significant competitor of Energizer Bunny is the newly developed energy storage device which resembles a black piece of paper. This is nano-engineered battery which is very light in weight, affordable, durable and is able to fulfil the requirement of energy. This newly developed paper batteries can be easily folded and twisted. So, the innovation of this new battery is a significant rival of energize and the organization is going t encounter tough competition from the launch of this new product.
General Conclusion / recommendations for the Energizer based on the external analysis.

Energizer is a very reputed company in the world. Then always company want to move Company's situation more forward than present situation. So Energizer always wants to improve the situation than which now is belong. Therefore, to improve the present situation of Energizer at first focus increasing profit, reducing loss, expanding the market etc. Now we discuss about the general conclusion for the Energizer.
First recommendation is that, Brush up the business plan. Reviewing and maintaining the business plan. First of all set priorities properly for the business better. The business plan is prepared monthly basis or at least quarterly basis. For the Energizer real planning is requires regular review. (Austin, 2014)
Second recommendation for the Energizer is that renews or regenerates relationship with customer. Always get in touch with existing customer via phone, mail or social networking and remind them that business is always ready to serve them again. After that get customer opinions about what is thinking of customer or feedback of customer for the product. Although marketing and advertising is important part to get more customers, quality, and service and customer satisfaction.
Third recommendation is evaluation of pricing. For the Energizer, the price of battery is not higher. According to the existing customers demand prices or rates of product is decided. So if this company wants to high the price of product then notice is mandatory for increasing the rate of product.
Forth recommendation is that find ways to reduce costs. For the secured funding from investors, Energizer need to constantly look for ways to reduce cost of product by the reduce cost of raw material, time in selling or delivering the product etc. This result is an improvement in company's bottom line.
Finally improve company's weak side. Energizer always wants to determine the effectiveness and efficiency of strategies. So for the profitability, increase income and maximize revenue. All receivable for actual assets is not less than forty per cent. (Kats, Braman& James, 2010)
The management of Energizer should focus on the threats which they are obtaining from the substitute's products or competitors. All these threats should be taken as an opportunity by Energizer. They should implement new technologies so that they are able to improve their competitive strength.
Thus, the entire report discussed about the nature of its business and its relevant facts. Energizer is a leading manufacturer of high performance of full line supplier of flashlights and batteries. The Energizer company main objective is about people live, work and communication. Energizer is worked about continuous invention and innovation. Energizer specially manufactures high tech batteries, chargeable and rechargeable batteries, hearing aid batteries, speciality electronic products and lighting product
References
Austin, J. (2014). Reviewing the reviewers.Science. doi:10.1126/science.caredit.a1400223
Bruce, P., Scrosati, B., &Tarascon, J. (2008).ChemInform Abstract: Nanomaterials for Rechargeable Lithium Batteries. Cheminform, 39(26). doi:10.1002/chin.200826225
Galindo Martin, M., & Nissan, E. (2010).International political economy. Hauppauge, NY: Nova Science Publishers.
Guerra-López, I. (2013). Performance Indicator Maps: A Visual Tool for Understanding, Managing, and Continuously Improving Your Business Metrics. Perf.Improv.,52(6), 11-17. doi:10.1002/pfi.21373
Hoque, F., Walsh, L., Mirakaj, D., & Bruckner, J. (2011).The power of convergence. New York: American Management Association.
Kats, G., Braman, J., & James, M. (2010).Greening our built world. Washington, DC: Island Press.
Lenk, R., &Lenk, C. (2011).Practical lighting design with LEDs. Hoboken, N.J.: Wiley-IEEE Press.
Rauch, B., Göttsche, M., Brähler, G., & Engel, S. (2011).Fact and Fiction in EU-Governmental Economic Data.German Economic Review, 12(3), 243-255. doi:10.1111/j.1468-0475.2011.00542.x
Yuniarti, D. (2015). Analisis SWOT SampahAntariksa Indonesia.BPOSTEL, 11(1), 13. doi:10.17933/bpostel.2013.110102
Zettl, P., &Zettl, S. (2013). Location Lighting Handbook for Portrait Photographers. Chicago: Amherst Media, Inc.
Calendar. (2011). Structural Safety, 33(6), p.I.
Langdon, M. (2010). Forensic fact or fiction?. Engineering & Technology, 5(5), pp.41-41.
Pestel, N. (2014). Employment effects of green energy policies. izawol.