Introduction
Ethical consumerism and Hazard management goes hand in hand in any business organization. Due to ever increasing public and social pressure and mounting customer expectations, business firms and organizations are expected to go beyond their legal requirements and act more responsible. By creating workplace more healthy and safe for their employees is one of the key for success for these rising expectations and improve their productivity. To improve the safety management, World Health Organization in the year 2010 launched a global framework for healthy workplaces on the basis of WHO Global plan of action on workers health (2008-2017).To run any business it is sparingly important to understand the basic ethical and legal principles that influences the work environment, including relationship between the consumer and the business organization. It is the major responsibility of human resource (HR) of any company to deliver knowledge about the safety regulation to their employees.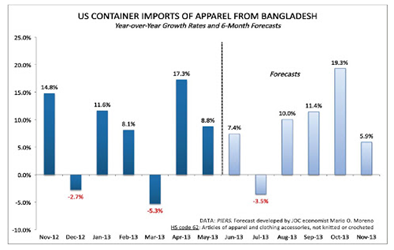 The multinational companies play a major role in supporting such small factories which source them readymade garments. Due to the increasing accidents in the garment industries, the ethical consumerism is creating havoc in the worlds business. In task 1, we discussed about the ethical consumerism and the way by which the multinational companies can support this small factories to overcome such accidents and to avoid its recurrence.
In task 2, we discussed the ethical consumerism, values and environmental friendly business of a garment company namely PRIMARK. We also discussed about how it maintains its ethical values throughout the business management.
Unethical Business and Measures against it-
Many articles are published in magazines and newspaper exposing the life stories of exploited workers and children, who manufactures product which are sold in the western countries and in the return they get a very small amount as wages. This is a matter of concern which has been raised by many social organization and NGO's for stopping the injustice happening to the workers in the under developed countries specially south-east Asian countries like Bangladesh (Khosla, 2013).
Ethical Consumerism and Critical analysis of Rana Building Collapse-
Over last twenty years, more and more people around the globe are primarily informed about the product they purchase in their day to day life. Fundamentally ethical consumerism is a type of customer activism, in which the customer is taking responsibilities for taking decisions in purchasing products and services. Most of the giant companies across the globe targets to setup the manufacturing unit in under developed or developing countries in order to get labor at cheap wages and larger in number. Based on the tragedy which happened on 24th April 2013, Ranasavar building got collapsed which killed around 1200 peoples with 2500 injured. It is considered to be one of the worst occupational hazards of all time, which actually happened due to lack of concern towards healthy and safe workplace practices (Nasir Uddin, 2014).
This report basically focuses on the critical analysis of hazard management in business infrastructure along with its significance in ethical practices in business. We also discussed about companies that are practicing ethical business and trying to work on business hazard management to prevent any accident on their workplaces and providing healthy environment to their employees. Along with that many companies that are avoiding child labor which is again favoring the ethical consumerism (Preuss, 2009).
In the present age of advanced technology and information system, particularly internet based and the role of media in highlighting bad practices in global supply of goods and services. Many articles are published in magazines and newspaper exposing the life stories of exploited workers and children, who manufactures product which are sold in the western countries and in the return they get a very small amount as wages. Many social organizations, trade union and charities run regular campaign to aware the consumers about the suffering of the worker during the manufacture of the products they use. Their ultimate aim is to highlight the unethical mean of earning high profits by these companies on the backs of the workers in the under developed countries. In this context, the fundamental principles of Ethical Consumerism are linked with almost every sourcing company and suggest becoming more socially responsible in all aspects of their business activities and for the government to examine the application of international convention to human rights, ethics, appropriate labour, environment and social standards. In simple words ethical consumerism is the intentional purchase of goods or services that has been manufactured, processed and provided through ethical mean without exploiting human or animal (Tompa, Trevithick & McLeod, 2007).
Business improvement through help-
Sourcing companies plays a major role in the development of a healthy manufacturing or work place. Due to ever increasing demand of a product a sourcing company tries to recruit more and more cheaply available workers for increasing the productivity. Without spending much on the infrastructure, advanced machinery and safety tools, they basically tries to over burden the unit and this results into a serious disaster as happened in Bangladesh in the year 2013. The primary help which a sourcing company can do is, to aware and educate workers about occupational health care and safety guideline by organizing various workshops. A little part of their funding can be invested for the inspection and repair of the old buildings, machines, tools and equipments etc. A committee must be form which primarily looks after the issues related to ethical issues related to the work place, which will directly report to the head of the business organization.
The Case Study
This case study is based on one of the largest stores of garment and a group of companies "PRIMARK". It is a part of ABF i.e. Associated British Food and has almost 200 stores across the Europe. It claims for providing customers with ethically sourced garments at a very low price. This company targets fashion conscious and wants value for money. It works with many third party suppliers and more concerned about business ethics. They claim that being an international brand with a huge supply chain, they have a socio-ethical responsibility for doing business. They also claim to provide the best product at cheaper price but not at the cost of their workers.
Ethical Consumerism of PRIMARK-
PRIMARK is one of the multinational companies which sourced garments from Rana Plaza building in savar, Bangladesh which shown concern towards developing a healthy working condition for the workers after an accident which happened in the year 2013 due to collapse of Rana Plaza building. Primark in association with their local partners in Bangladesh worked on program of support and compensation for the victims. With the help of other companies and other government organizations, Primark took the responsibility to take steps for making garment factories safer in the future. They contribute $1 million who produced garments for other retailers. After the devastation faced by many garment companies in the past few companies like PRIMARK took the initiative to develop a protocol and guidelines to support ethical business. This gave them a huge support from ethical consumerism point of view and the public got faith in the company for manufacturing their products ethically. By making the ethical trade process transparent, PRIMARK demonstrate its responsibility in ethical manufacturing. This assures the consumer that the products they are purchasing are not only fashionable but also value for their money and also they are ethically produced by employers who are fairly treated. Few ethical steps taken by this organization includes-
Detox campaign
Rana Plaza long term compensation
Women's Health
Resources for schools
Worker empowerment
Greens stores
Ethical Values of PRIMARK-
The company is owned by Associated British food (ABF) and it shares values by taking care of their people, being a good neighbour and trying to foster ethical business relationship. Like many retailers, PRIMARK doesn't have manufacturing units of its own; they work with some selected suppliers who continuous to work with PRIMARK since last many years and their business support about 70,000 workers across 3 continents. They claim to take responsibilities of their worker in the factories, their customer, community and shareholders. They work hard to ensure that their products are made with respect for environment, in good and healthy working conditions and the workers' rights are respected. Apart from this they partnered with BSR and started HER project where they provide health care and health education for the women workers in their factories. Related to environmental ethics, recently in the year 2013, they banned the usage of angora and ceased ordering all products which contain angora to show their concern towards animal welfare.
Environment Friendly Business-
To keep the environment plastic free, they are manufacturing/outsourcing cardboard carry bags for delivering their products.These claims are still the matter of debate among many groups who thinks PRIMARK as the most unethical garment company.
Conclusion
The present report consists of Ethical consumerism, Occupational health management and a case study on ethical conducts of the company PRIMARK. Although many companies grew to heights in the beginning but due to lack of their ethical responsibilities towards customer as well as for their employees but fail to With the emergence of ethical consumerism, the multinational companies are expected to show more responsibilities towards the ethical issues related to their business after facing so many disasters in the past. For any kind of products or services if profit is obtained then it helps in stimulating for the ethically producing the goods. The choice of doing such thing will not only strengthen up the image of the company, but also have numerous long term benefits. Therefore, if a company doesn't concerned about the welfare of the society then it may results in the ceasing of its existence as concluding today's companies are more dependent on the opinion of public (Robson, 2007).

Recommendation
Some of the useful recommendations for the businesses which source the cloth manufacturing companies' are-
Leadership, engagement and commitment-
Gain commitment from major stakeholder to integrate healthy work environment of an enterprise.
Get necessary resources, support and permissions for developing a healthy workspace signed by the highest authorities.
Involvement of workers and representatives
Workers or employers must be involved in every step of the management and risk assessment processes and their opinions and ideas must be considered.
It is important that workers have collective means of expression.
Business ethics and legal practices-
General body must be formed to look after occupational health laws and code
It must look after child labor.
Take responsibilities of workers, their families and also look after their undue sufferings.
Installation of latest tools and machinery-
Advanced machinery with alarming system must be installed at workplaces
Use of latest technologies for real time monitoring of work place and security towards potentially hazardous equipments.
Labor Union and Organization-
Look after the ethical demands of the workers
Training, awareness, and motivation of workers regarding safety regulations and guidelines(Beauchamp, 2004).
References:
Aguilera, R. V., Rupp, D. E., Williams, C. A., &Ganapathi, J. (2007). Putting the S back in corporate social responsibility: A multilevel theory of social change in organizations. Academy of management review, 32(3), 836-863.
Andersen, M., &Skjoett-Larsen, T. (2009).Corporate social responsibility in global supply chains. Supply chain management: an international journal, 14(2), 75-86.
Beauchamp, T. L., Bowie, N. E., & Arnold, D. G. (Eds.).(2004). Ethical theory and business.
Khosla, N. (2013). The ready-made garments industry in Bangladesh: A means to reducing gender-based social exclusion of women?. Journal of International Women's Studies, 11(1), 289-303.
Micheletti, M., &Stolle, D. (2007).Mobilizing consumers to take responsibility for global social justice. The annals of the American academy of political and social science, 611(1), 157-175.
Nasir Uddin, M. (2014). A study on the work place environment in garment industry: Challenges and opportunities (Doctoral dissertation).
Pivato, S., Misani, N., &Tencati, A. (2008). The impact of corporate social responsibility on consumer trust: the case of organic food. Business Ethics: A European Review, 17(1), 3-12.
Preuss, L. (2009). Ethical sourcing codes of large UK-based corporations: Prevalence, content, limitations. Journal of Business Ethics, 88(4), 735-747.
Tompa, E., Trevithick, S., & McLeod, C. (2007). Systematic review of the prevention incentives of insurance and regulatory mechanisms for occupational health and safety. Scandinavian journal of work, environment & health, 85-95.
Robson, L. S., Clarke, J. A., Cullen, K., Bielecky, A., Severin, C., Bigelow, P. L., ...&Mahood, Q. (2007). The effectiveness of occupational health and safety management system interventions: a systematic review. Safety Science, 45(3), 329-353.