Nature of Strategic Performance Measurement System
Discuss about the Strategic Performance Measurement System.


Strategic Performance Measurement can help the companies in achieving success and it can help in driving strategy execution. Strategic Performance Measurement System (SPMS) can lead to improvements of the performance of the employees and this approach can help in making the strategic goals transparent to that of the line executives. It helps in providing a mechanism that can help in monitoring the progress towards that of the goals by making use of intuitive performance measures (Hill, Jones and Schilling 2014). This report discusses about the nature in relation to strategic performance measurement system and the issues that a multi-national company faces in relation to performance measurement. This report elaborates on the implications of SMPS in the areas of strategic alignment along with that of performance evaluation.
Strategic Performance Measurement System makes use of information in order to bring about a positive change to the organisational culture and process. The relations between the roles and the capabilities of that of strategic management system can help an organization in achieving causality between the roles along with that of organizational resources. SPMS should be implemented and it can help in the articulation of the strategy that can produce business results. It helps in the monitoring of the financial along with non-financial aspects in relation to an organization (Wheelen et al. 2017). SPMS can help the organizations in building organisational capabilities that can help them in sustaining competitiveness within that of the market. The organisations are making use of SPMS that can provide them with information that can help the organization in identifying strategies that can help them in their growth within the industry (Slack 2015). Balanced scorecard refers to a performance measurement tool that is made use of by the managers for keeping track of the activities of the employees. It is indicative of a performance management report that helps in managing the manner of
implementing a strategy. This is used by the individuals for tracking personal performance and it helps in focussing on the strategic agenda pertaining to an organization. It has in the recent age become main component in relation to the structural approaches of corporate strategic management (Horngren et al. 2014). Balanced Scorecard helps in reflecting on the critical success factors that helps in determining the success in relation to the strategies of the organization. Balanced Scorecard helps in showing relationship of the individual measures in the manner of cause and effect (Rothaermel 2015). The Balanced Scorecard proves to be immensely helpful for an organization as it can translate the strategy of an organization into that of the operational objectives. A strategy map is a visual representation that helps in identification of the linkages between the lag along with the lead factors.


Implications of Strategic Performance Measurement System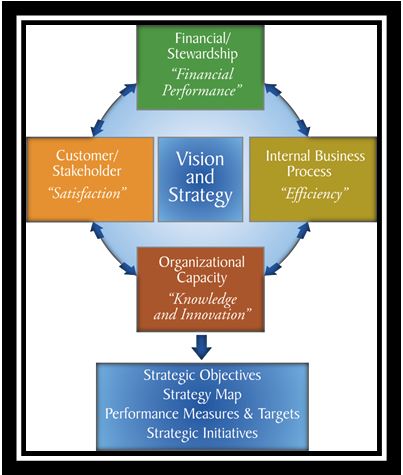 Figure: Balanced Scorecard
Source: (Hill, Jones and Schilling 2014)
Performance management is indicative of a process that helps in setting a shared understanding regarding what one can achieve at the organizational level. Performance measurement can help in the integration of different elements that can produce effective management in relation to the human resource. It is indicative of a systematic process that a manger can make use of for achieving the objectives of the team. It can help in improving the team effectiveness and developing of performance capabilities in an organization.
Strategic Performance Measurement System should be on the basis of the needs pertaining to the organization. SPMS cannot be duplicated and implemented in that of another organization because the objectives of the companies being different. A multi-national company (MNC) finds the implementation of SPMS difficult as the goals of the parent company is different from the subsidiaries. The subsidiaries are located in different regions and hence the missions of the organization are on the basis of their local needs. The competitive strategy of an organization situated in a particular region may be different from that of another place and this makes the strategies to be different for the organizations (Lasserre 2017). The parent company having a mission statement differing from that of the subsidiaries acts as a hindrance in the path of implementing strategic performance measurement system. An accounting system is of great necessity for a multi-national corporation that can render effective help for monitoring of operations. The reviewing in relation to organizational development helps in the field of performance evaluation. The international context of a MNC makes the process of strategic performance measurement difficult. A multi-national company cannot decide properly as to whether foreign operations should undergo evaluation based on cost, profit or investment (Bettis et al. 2016). The circumstances prevailing in the environment will have an impact on the organisational strategy and hence a multi-national corporation cannot use a uniform measure that can help in the field of performance evaluation. An MNC cannot decide on what basis performance evaluation will be done that can give rise to a valuable result.

Performance of the subsidiary and management should undergo differentiation that can help in getting valid results. Evaluation system should be capable of supporting separation of managerial and subsidiary performance that can provide remuneration to that of the good managers in an organisation (Melnyk et al. 2014). The integration of performance management system with the aspect of strategic planning is imperative for the success of an organization. The dearth of integration between parent company and subsidiary makes the implementation of performance measurement difficult for the organization (Koufteros, Verghese and Lucianetti 2014). There are additional problems that makes the process of measurement of performance difficult. It has been found that the economic, social along with the cultural environments vary in different countries that makes the measurement of strategic performance measurement difficult. The government existing in some country can impose some kind of control that can limit selling prices in relation to a particular product. Availability in relation to the materials along with that of skilled labour can differ to great extent across different countries which makes strategic performance evaluation difficult (Kondo and Nishii 2016).
Challenges faced by Multi-national Companies in Performance Measurement
Cultural differences are found to exist in parent along with subsidiary company and this makes difficult the measurement of strategic performance measurement system. The integration of business plans becomes difficult in the case of a multi-national corporation and this acts as a barrier in the path of strategic performance measurement (Micheli and Mari 2014). Financial planning is different for the different organizations that makes performance measurement difficult.
Evaluation pertaining to balanced scorecard is an arena of difficulty as one cannot decide whether right factors are being measured. Strategy map can prove to be useful in providing a visual representation that can explain cause-effect relationship existing within an organization. The devising of a competitive strategy is dependent on that of competitive forces pertaining to a particular industry. The manner in which a company would like to be viewed will differ from parent and subsidiary company. The needs of the customers are different in different areas which makes implementing strategic performance measurement difficult. The business conditions that exist internally is different for parent company and the subsidiaries and this makes the evaluation of the performance measurement difficult (Lisi 2015). Senior management not being committed to the organization can lead to failure of in relation to strategic performance measurement. There are lesser chances of the strategy of the organization being translated into that of action on account of the fact that key performance indicator in different companies will be different. The financial measures act like that of dependent variables and they act as lagging indicators. The establishing of quantifiable link becomes difficult in case of an MNC because of difficulty in measuring lag time (Shahin et al. 2014).
SPMS can be used for building relationship between the headquarters and that of the subsidiaries. It is important that the organisations should be able to decide regarding what kind of SPMs is to be introduced that is in line with that of strategic control. In the event of a multi-national company wanting to exert financial control over that of the subsidiaries financial indicators should be included that can prove to be appropriate. SMPs acts as a useful means with the help of which dialogue can be established between the different functions in an organisation. The headquarters should seek dialogue with that of the local managers that can help in designing measurement system that includes that of non-financial indicator (Salinas et al. 2015). Lack of the aspect of clarity over different issues can lead to the creation of considerable problems that can cause the failure of strategic performance measurement system. The significance in relation to performance indicator would keep on changing with the passage of time which is dependent on the performance of the organization. Shift in emphasis in relation to specific elements pertaining to SPMS is dependent on performance of subsidiaries along with that of the operating environment (Ibrahim 2015). The parent company can make use of multiple perspectives in order to assess performance. They want to restrict the focus to that of financial indicator in case of financial results being poor.
Conclusion:
SPMS can help in the process of articulating of strategy in an organization that can help in driving the business results. An organization can monitor financial and non-financial aspect with the help of SPMS. Balanced Scorecard can help the management in a company in tracking activities pertaining to the employees. The objectives in relation to a parent company is different from that of the subsidiary in the case of a multi-national company. This makes implementing SPMS difficult in the case of a multi-national company. The location of the subsidiaries being different from the parent company it becomes difficult to assess strategic performance measurement system. The environmental circumstances influence strategy of organization and a uniform measure in relation to a multi-national company will be different. Business conditions are different for parent company and that of the subsidiaries and hence evaluation in relation to performance measurement becomes difficult. Financial indicators can be included in relation to an MNC that can help the parent company in exerting financial control on the subsidiaries. Dialogue with local managers by the headquarters can prove to be of much help in designing strategic performance measurement system. Clarity in relation to different issues can help in the removal of considerable problems pertaining to SPMS. The wants of the customers being different for parent company and subsidiaries makes the implementation of SPMS difficult.
References:
Bettis, R.A., Ethiraj, S., Gambardella, A., Helfat, C. and Mitchell, W., 2016. Creating repeatable cumulative knowledge in strategic management. Strategic Management Journal, 37(2), pp.257-261.
Hill, C.W., Jones, G.R. and Schilling, M.A., 2014. Strategic management: theory: an integrated approach. Cengage Learning.
Horngren, Charles T & Datar, Srikant M., (author.) & Rajan, Madhav V., (author.) & Wynder, Monte B., (author.) & Maguire, William A. A. (William Alexander Arthurs), 1948-, (author.) et al. 2014, Cost accounting : a managerial emphasis, 2nd edition, Pearson Australia, Frenchs Forest, NSW
Ibrahim, M., 2015. Investigating the use of the four perspectives of balanced score card (BSC) as technique for assessing performance by Nigerian banks. Journal of accounting and taxation, 7(4), p.62.
Kondo, T. and Nishii, T., 2016. The Effectiveness of Strategic Performance Measurement System in Creating and Steering Tension. In Performance Measurement and Management Control: Contemporary Issues (pp. 141-164). Emerald Group Publishing Limited.
Koufteros, X., Verghese, A.J. and Lucianetti, L., 2014. The effect of performance measurement systems on firm performance: A cross-sectional and a longitudinal study. Journal of Operations Management, 32(6), pp.313-336.
Lasserre, P., 2017. Global strategic management. Macmillan International Higher Education.
Lisi, I.E., 2015. Translating environmental motivations into performance: The role of environmental performance measurement systems. Management Accounting Research, 29, pp.27-44.
Melnyk, S.A., Bititci, U., Platts, K., Tobias, J. and Andersen, B., 2014. Is performance measurement and management fit for the future?. Management Accounting Research, 25(2), pp.173-186.
Micheli, P. and Mari, L., 2014. The theory and practice of performance measurement. Management accounting research, 25(2), pp.147-156.
Rothaermel, F.T., 2015. Strategic management. McGraw-Hill Education.
Salinas, M., López-Garrigós, M., Flores, E., Santo-Quiles, A., Gutierrez, M., Lugo, J., Lillo, R. and Leiva-Salinas, C., 2015. Ten years of preanalytical monitoring and control: Synthetic Balanced Score Card Indicator. Biochemia medica: Biochemia medica, 25(1), pp.49-56.
Shahin, A., Shabani Naftchali, J. and Khazaei Pool, J., 2014. Developing a model for the influence of perceived organizational climate on organizational citizenship behaviour and organizational performance based on balanced score card. International Journal of Productivity and Performance Management, 63(3), pp.290-307.
Slack, N., 2015. Operations strategy. John Wiley & Sons, Ltd.
Wheelen, T.L., Hunger, J.D., Hoffman, A.N. and Bamford, C.E., 2017. Strategic management and business policy. pearson.
Cite This Work
To export a reference to this article please select a referencing stye below: